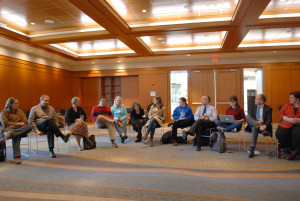 By Ruby Dickson
This week, President Mark Burstein and the President's Committee on Diversity Affairs held two town hall meetings to discuss the emerging themes of the last several years of Campus Climate Survey results.
Since 2008, the Committee has conducted the Campus Climate surveys as a method to assess Lawrence's climate regarding a number of different factors. Throughout these studies, Lawrence students have rated the quality of faculty and campus safety highly. According to the study, Lawrence students have always demonstrated a high regard for "human differences" on campus.
However, Lawrence's campus climate surveys also reveal a troubling trend in diversity affairs. Students of color and students from other marginalized groups consistently report that they endure bullying, harassment and a lack of respect on the Lawrence campus. Non-white students, with the exception of Posse participants and international students, also report lower grades and significantly lower retention rates at every class level. Additionally, atheists and religious students alike felt they had been discriminated against for their beliefs.
Although the Committee only recently released official summaries of the 2011 survey, it has already begun to analyze the newest survey, conducted in 2013, which seems to be a continuation of these trends. In some cases, particularly those of students of color, the 2013 survey may show  more pronounced dissatisfaction.
These town hall meetings were an attempt from President Burstein and his administration to hear the concerns of the Lawrence community and discuss possible solutions.
Faculty held the town hall meetings Friday, May 16 and Tuesday, May 20 at 4:30 p.m. in the Pusey Room. A large turnout showed that many in the community are interested in improving Lawrence's campus climate. Members of the student Committee on Diversity Affairs (CODA) led most of the questioning, but students and faculty alike showed their commitment to diversity with their questions, responses, and ideas.
Definitive themes emerged in these town hall meetings. One was the need for more safe spaces for all groups on campus to talk about their unique social situations. These discussions brought forth ideas of how to create a nurturing environment for marginalized students. These ideas included attracting and retaining a more diverse body of students, faculty, and staff as well as making the role of the Office of Multicultural Affairs more prominent. Another idea was to increase networking and community-building opportunities for marginalized students.
In addition, faculty noted that Lawrence plans to implement the Freshman Academic Institute, a summer program to precede freshman year, encouraging community building and a sense of solidarity for marginalized students. Another suggestion for improvement was to look to other comparable colleges that have succeeded in improving diversity affairs.
Students wanted to know more about the cultural awareness and diversity of faculty and staff. Several faculty members explained that the campus policies regarding diversity and sensitivity involve not only training sessions and safe space forums, but also new guidelines for hiring and training a more diverse faculty. In particular, Lawrence will be working for the next few years with a diversity expert from St. Olaf College to improve inclusivity and availability of diverse options.
Faculty also spoke about the difficulty of hiring diverse faculty to a campus in the Upper Midwest, to faculty from diverse backgrounds being sometimes wary of seemingly homogenous environments. While hiring diverse faculty members is difficult and competitive, Lawrence is currently trying to expand the diversity of both faculty and staff.
Furthermore, faculty supported the idea of having optional, person-specific trainings for faculty and staff regarding race, socioeconomic background and sexual orientation. Those staff who opted in to this would display to students their experience with marginalization, as well as their willingness to act as mentors for students who feel lost or ignored.
Students and faculty alike agreed that these changes must be made gradually. This could be as simple as providing a lunch hour for students to interact with mentors and with each other, lessening the academic load, or year-long group programs to facilitate community. President Burstein stressed that the process should be "organic," and emphasize that "community is the hallmark of Lawrence."