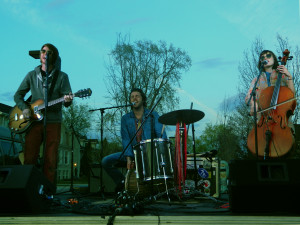 Last Saturday I had dinner and hung out with the Ballroom Thieves, a rock band made up of a guitarist, cellist and drummer, before their gig just outside the Warch Campus Center, and their most recent show at Lawrence University, having played here a year or so previously. Here is a small variety of things we talked about:
1. Basic dating technique (I was the recipient of this, much to my embarrassment).
2. Did my shoes smell the worse, or did the drummers? (This was never decided, out of a general lack of enthusiasm and a lack of subjects willing to be judges)
3. Are pigeons a good source of food, or are they as terrible as they are in general life? (We determined that it would probably taste something like quail, but lighter and stringier)
The wide (and, I must admit, strange) thread of our conversation before their gig is not just a sign of their charming, mellow-yet-eccentric attitude, but also their style of music. A bewitching sort of folk and rock fusion that sounds a lot like both but is really a member of neither, being more melodic than most rock and more overpowering than most folk, the result being a unique sound exclusive to them.
The Ballroom Thieves consist of two men and one woman; Martin Earley (guitar/vocals), Devin Mauch (Percussion/vocals) and Calin Peters (cello/vocals). The three of them sing and play in excellent harmony, complimenting each other's vocals, with all three of them given equal opportunity to show off when the time comes for it. Their songs, including but not limited to "Down by the River," "Coward's Son," and "Armada" wash over the listener like the shoe gaze of My Bloody Valentine or the Jesus and Mary Chain, but with a strong, angular sense of melody, creating an effect similar to being swept away in a current, or being pulled through a great forest.
Before they go on, I watch them do their sound check. I see them unload their gear, set it up, helping the tech crew the whole way, even with things they aren't needed for. They get up on stage, pick a little bit at their instruments, and then they roar to life, charging through the song with power like crashing waves.
They don't let up for the entire show.