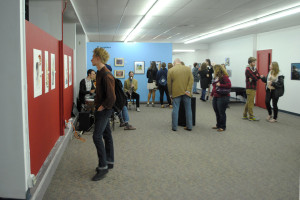 On Friday, May 16, the Rabbit Gallery opened its doors once again for a new year and under a new board. Located this year at 502 West College Ave, the opening reception featured refreshments, live music and a new crop of artistic submissions in all genres and invited students, professors, donors and guests to come and explore the new space and new art.
Self-described as "Appleton's own pop-up gallery," the Rabbit Gallery has appeared in different locations on College Avenue every spring since 2011. The gallery was originally conceived of by students in 2010 in a course called Entrepreneurship in the Arts and is now in its fourth incarnation.
As a pop-up gallery, the point is to take advantage of for-sale, empty store fronts that can harm small communities and use them to cost-effectively promote local artists and help the space find a buyer, permanently filling the empty window. Additionally, the organization process allows Lawrence students involved in the arts to dabble in the entrepreneurial side of things and experience the effort and process behind putting together a gallery. Everybody benefits: Artists get to showcase their works at a low cost, property owners get better-looking spaces, students get experience and downtown Appleton gets a valuable, if temporary, addition to its community.
While the team of students behind the gallery last year consisted almost entirely of seniors, this year's group was decidedly younger.
Sophomore Aleisha Barton, the only returning member of last year's board, served as Director, while senior Emma Moss handled events. Juniors Adriane Melchert and Caitlin Wittner dealt with finances and served as Creative Assistant respectively. Sophomore Molly Hopkins served as Assistant Director, sophomore Abigail Kosberg was in charge of curation and public relations, sophomore Anne Leung worked on marketing and artist coordination and sophomore Makenzie Nolan dealt with volunteer coordination. They were assisted and advised by Associate Professor of Art Rob Neilson and Lecturer of Economics Gary Vaughn.
For the first time this year, the gallery partnered with the National Alliance on Mental Illness (NAMI). While the theme for submissions was simply "Perception," the gallery spotlighted an additional theme of "stories of mental health."
Melchert said of the experience, "It was extremely rewarding seeing the final product, and as CFO it felt great to know we were able to work as a team and stay under budget. I had no idea I was able to work with numbers, but I guess doing it within the camouflage of art made it feel more comfortable as a challenge."
Now that the Rabbit has officially opened its doors, it will be open from 4-7 p.m. on Wednesdays and Thursdays, 4-9 p.m. on Fridays, 10-9 p.m. on Saturdays and 11-4 p.m. on Sundays until June 8. During the duration of its existence, the Rabbit will be hosting a few events. On Saturday, May 24 at 6 p.m., Dr. Kelly Duggan will be speaking on "Society's Perception of Mental Illness vs. the Realities of Mental Illness" in an event sponsored by the Lawrence chapter of NAMI. On Saturday, May 31 at 7:30 p.m. the gallery will host a Poetry Reading and Spoken Word event. And on Saturday, June 7 at 5 p.m. there will be a Silent Auction.
This year's Rabbit has certainly lived up to its predecessors in terms of art, design and execution, and the collaboration with NAMI lends an additional aspect to its mission. Take advantage of the nice weather to walk over and see what the Rabbit's team has created!