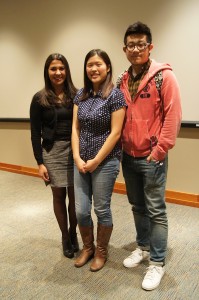 By Margaret Koss
On Thursday, May 15, senior Chiao Yu Tuan's documentary "5000 Miles From Home" premiered in the Warch Campus Center Cinema. After working on the film for three years, everything finally came together for a successful and impactful showing.
Tuan, the producer, editor, and one of the interviewers, had a bevy of students working with her: Tom Coben '12 and senior Brooks Eaton filmed, Yagmur Esemen '13 and senior Victoria Jhong Chung conducted interviews, and junior Nicolas Bizub composed the musical score, and members of the LUSO recorded the music—just to name a few of the people involved in the long process to make the film ready for audiences. The result is all the more remarkable because Tuan herself has never taken a film class, and neither have a lot of the other students who worked on the project. "I joined the film production club when I first came here because at the end of high school I thought filmmaking was pretty interesting," Tuan said.
Upon realizing that the members of the club supported each other and any projects they were interested in pursuing, Tuan's wheels started turning as she considered the idea of making a film. "I didn't really have ideas for scripts or anything like that, until winter break of my freshman year when I had the idea of making a documentary. I wanted to make a film about peoples' real life."
The idea became bigger and bigger as she made a series of decisions: to film a few people for an entire year, to film members of the incoming class, and to film international students. Tuan herself is an international student from Taiwan, which influenced her decision: "I kind of know the difficulty that a lot of students go through, like the language and the culture shock, so I thought it would be an interesting topic."
So, she created an application for incoming international students to fill out to become involved in the film, and she chose juniors Alex Liang, Katerina Kimoundri, and Maggi Rojas. "I'm glad it worked out this way because I had Alex from China, Katerina from Greece, and Maggi, a transfer student from Peru… it covers a big range of backgrounds," Tuan said. The students were filmed throughout the course of their freshman year, which was Tuan's sophomore year. Liang, now a junior, said that "the making of the documentary made me feel more involved and forced me to reflect on the process of myself adjusting to the new environment. It definitely had positive effect on me."
"The three of us [interviewers] had a one on one relationship with the three participants, and we would meet with them every week just to kind of ask them how things are going and to know if they're going to an event to see if we should film that. We also brought them in for interviews every term—more in the fall, but less each term after that. Other times we would bring a small camera and walk around with them or visit their room," Tuan explained. In the formal interviews, Eaton and Corbin were more involved in the technical process of filming. When a small camera was brought around campus, the interviewers would handle the filming.
Tuan described the film as being intended for three different audiences: international students, domestic students, and incoming international students. "When I look at the film, sometimes I look at parts of it and think of one type of audience. Like the cheese tasting, for example. It's funny but I think of it as being for the local people who don't know how exotic cheese is to some students." Although she noted that finding the balance between audiences could be difficult, she managed to find it.
For the international students, the idea was to show something they could relate to, "doing something that they would say 'yes that's my experience, yes that's how I'm feeling, yes that's very real,'" Tuan said. For the domestic students, "it shows the hardship of going through that, and it's informational and educational about this population of international students." Admissions sponsors the audience of incoming international students, because they will be using the film to give these students an idea of what life at Lawrence is like and to let them know they're not alone in their experience. "A lot of it is very common for international students—you come in very insecure and not very confident in your ability, so it's good to know that it's not just you that's homesick, and that people do overcome it and become very successful," Tuan said.
After seeing everything come together, Tuan takes away from the experience the fulfillment of "just knowing a lot more about someone's life—the film is 40 minutes, but I've seen hours and hours of footage, so I really enjoyed that part. The storytelling was interesting." And those stories have come full circle, as well. Liang reflected, "This experience is very special to me, because it gives me a chance to look back on myself changing, adapting, and learning. It is fun to see a younger me saying things I don't agree with now, but I firmly believed then; it is also encouraging to see that I have been holding on to my goals all along, and I am achieving those goals bit by bit."