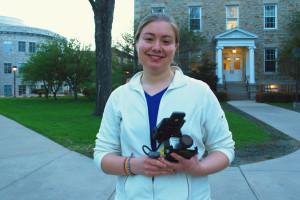 Few people have a real affinity for bats. We sometimes see them flying around at night, but they are, for the most part, shrouded in a certain amount of mystery. Senior Lindsay Browne has spent extensive time and devoted a senior capstone project to trying to figure out more about these mysterious animals. For the past week she's brought this passion to the wider Lawrence campus. "For the past two summers I've done acoustic bat monitoring at Heckrodt Wetland Reserve as part of their Fox Valley bat detective program, going out with volunteers and teaching them how to use the equipment and going out to do monitoring there at every site. I used that data for my senior project," explained Browne.
This previous work was the inspiration behind Bat Blitz, an opportunity for students to go out with Browne and other volunteer leaders to monitor bat activity in the Appleton area. "I arranged this with Jodi Sedlock, she's my biology adviser as well as the resident bat expert. It was a fun thing to do for my last term of senior year, to do some similar monitoring with volunteers on campus instead of all around [the area]," she elaborated. "The equipment is really easy to use, it's a great way of telling people about bats, why they're awesome and why we should care about them, and collecting data so that we can learn more about them, because we actually don't know much about bats."And the equipment really is simple to use. It consists of a very sensitive microphone that picks up high frequency calls and transposes them to a level humans can hear. When a call is heard, volunteers simply hit a button that records the call for fifteen seconds. These calls make up a given night's data.
The hope of both Browne and Sedlock is that the data collected during the four night run—one night was rained out—will be used by future students interested in bats. "The hope is that this project will continue after I leave, that other future students will do a similar bat blitz one week, with five days of monitoring for the next few springs and then compare [data]. We can use the data from this to correlate things like, did we detect more bat activity on this night versus another night, or is there activity associated with temperature or location."
While a lack of volunteers prevented Browne and other leaders from having multiple routes per night, they did get data from the river walk, although the colder weather and rain prevented much recordable activity. "That's the downside of this kind of monitoring," Browne explained, "it's not like you can call to the bats, sometimes they're there and sometimes they're not… it's less exciting to go out and hear one bat, but it's just as valuable to know where bats aren't as it is to know where and when they are."
Browne's hope was to interest students that weren't previously or seriously involved with science at Lawrence to come and learn about the practice of biology from hands on experience. "It's about and getting [new people] excited about science by doing it, instead of having someone lecturing at them… it's an informal teaching tool of the scientific method, and getting people not necessarily majoring in a science field to show them they can still be involved."
That's how freshman Brighton Fromm-Sarto got involved. While not necessarily a biology major, she had taken Biology 130 and done a project using some of Browne's previous data. "It would have been cool to go and monitor when [Browne] was doing her project," said Fromm-Sarto, "but since we couldn't it was nice to have this opportunity." Even though the weather and late in the year timing did hinder the turn out, Browne seemed hopeful that the project would continue in future years, and based on the enthusiasm of the volunteers present, she does not seem mistaken.