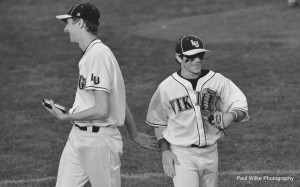 Jake Gordon: Baseball
Junior Jake Gordon finished his third season in the LU baseball program with a team-leading 0.400 batting average. He also had the most at-bats with 135, hits with 54 and runs with 30. Defensively, Gordon held a fielding percentage of 98.9% and recording only one error all season. Gordon has dominated the game this season and earned All-MWC honors.
1) What has been your most memorable experience this year?
My sister, my Mom, my friend Ben, and my Cousin Rich, all made it to games this year, and my Dad made it to every game. It means so much to have family and friends there for every game. Baseball wise, I'd have to say that the most memorable moment was this year's victory against Carroll, a game we won 24 to 11. We actually set five school records in the game, including runs scored and runs batted in for a Lawrence Team. It was really a thrill to see some of my close friends, and teammates hitting the ball well and setting records, it was awesome to see how much fun the team was having.
2) Why did you start playing baseball?
Baseball has been my passion for as long as I can remember. My dad put a glove on my hand before I could walk, and ever since that day I couldn't get enough of the game. I'm really glad that it was baseball that my dad introduced me to. It was always something that my dad and I could do together. And any free time I had growing up, I'd go outside and toss the ball to myself. There was just something about baseball that drew me to it, whether it was the friendships that I made through the game or the thrill of playing.
3) Reflecting on the season, what has been the most difficult moment?
First, I think all of the games that were rained out throughout the season made it tough for the team to get into any sort of rhythm when we returned from our Arizona trip. Second, it was an extremely tough blow when Hootie (Luke) hurt his ankle and was unable to continue playing. In the games leading up to his injury, we were starting to play some pretty good baseball. He was an integral part of this year's team as our four-hitter, our leading home run hitter, and one of our main RBI guys. It was a tough blow for us on and off the field when he got injured in the middle of the season.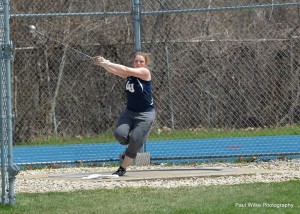 Genna Matt: Outdoor Track & Field
Sophomore Genna Matt placed sixth in the hammer throw at the Midwest Conference Championships at Grinnell College with a distance of 135-5. This distance shattered the old school record of 121-7.25, also set by Matt. Throughout the season, Matt has shown massive improvement and beaten multiple school records. Having only started throwing her freshman year at Lawrence, Matt has clearly displayed a lot of potential. And while she already has many impressive accomplishments, there is certainly much more to come from this star athlete.
1) Why did you start throwing?
I didn't do track at all in high school, even though I always wanted to, because it conflicted with soccer. I went to the first day of track practice at Lawrence thinking I'd sprint to do some year-round conditioning for soccer but changed my mind and followed the throwers to their practice and never left.
2) What was your favorite part of the season?
My favorite part of the season was just joking with the team on the bus, at practice, at the hotel for conference, everywhere, all the time. Also, the men's hammers getting stuck in the fence this year was pretty funny, to everyone except fot them of course. Even lifting at 6am with the football team was a good time because they're such great guys and made me feel very welcome.
3) What are you going to do in the off season to get ready for next year?
I'll probably take implements home this year over the summer to practice with, I just have to find a patch of ground I can tear up with hammer holes.