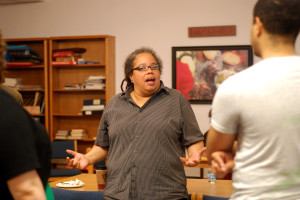 To welcome the new film studies director and promote fat activism and body positivity, Lawrence University hosted its first "Riots Not Diets!" series from May 19-20.
"Riots not Diets!" is an event series that works to help students celebrate the broad spectrum and diversity in body types.
"Diversity is a positive thing," Gender Studies Advisor and Assistant Professor of German and Film Studies Alison Guenther-Pal said. "We want to call attention to fatness as a category of identity and the 'radical' idea that loving your body is a great thing."
The event is also used to promote fat activism. New film studies director and fat activist Amy Abugo Ongiri had a large hand in setting up this event at Lawrence.
"There are so many messages out there that fat people's bodies are disgusting and they tell us that we need to change," Ongiri said. "We need to liberate ourselves and know that our bodies are already ok."
In today's society, men and women are often told by popular culture and the diet industry that they need to change their bodies. Young people are especially targeted in these messages, which is another major reason this event is being hosted on a college campus.
"It's important to promote body positivity because of the sheer number of people who struggle with body image within Lawrence's demographic," sophomore Tracy Johnson said.
"Body negativity is endemic to young people of all genders, particularly to young women, people of color, those who identify as transgender and those who identify outside of the gender binary. The journey to body positivity is intensely personal and often long, and it is important that we begin an open discourse on campus so that people feel that they are not alone, that body-love is encouraged, and that it is absolutely not necessary to conform to white patriarchal standards of beauty in order to look and feel good."
Ongiri and Guenther-Pal also both stated that the goal of this series is to promote healthy body image and to combat the rhetoric put out by these industries that tell people they should look a certain way.
The series began with a meet and greet with Ongiri. A few weeks ago, Lawrence hired Ongiri to be the new director of film studies. This is her first event at Lawrence.
"It's great that body positivity and fat activism is so welcome on this campus," Ongiri said.
Following the meet and greet was a film screening and lecture. The film "Aquaporko" is a 2013 Australian documentary about a fat and queer synchronized swim team.
"This film presents incredible images of fat women as athletic and graceful," Ongiri said.  "We don't see those images in main stream society."
The last event in the series was a body positivity speak out where students met and had an open discussion about what people think of their bodies and about the pressures from today's society for what defines a beautiful body.
Although this the first year for this event, Ongiri and Guenther-Pal hope to make this an annual occasion.