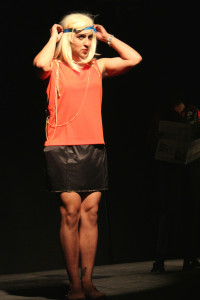 Five minutes before show-time on Sunday, May 25, all that was left was a tiny bit of standing room in Esch Hurvis. This impressive level of attendance was indicative of the excitement and support for Lawrence's annual drag spectacular.
The show featured a variety of drag performers, including juniors Alexis Cuozzo and Carly Gaeth, who performed as Clit Toris and Papa Cherry. They opened up the show with "SexyBack," but my favorite piece of theirs was "Dick in a Box," complete with confetti and artful hip thrusts.
Mallory, Camela Toes and Shu Shu Fontina (Nicholas Perez and Camila De Meo, seniors, and Stefany Dominguez, freshman) performed "An Original Ballade" and "Partition" with a significant dose of sass. Pearl Gaily (Paul Gutmann, sophomore) showed off fancy footwork in a mischievous rendition of "My Discarded Men."
Talia Finkelkunt (Tyler Grasee, junior) sashayed in frighteningly high heels to "Donatella" while dancing with the scantily clad and saucily silent assistants—seniors Alex York and Jack Canfield and sophomore Kyle Stalsberg. The Disco Queers (Perez and Becky Dykes, senior) brought out some old-school grooves with "Let's Dance" and some Beyoncé magic with "Love on Top."
Marshall Cuffe '13 and senior Ariel Garcia organized and hosted the show as the dynamic duo Velveeta and Satine, the Sisters Charmeusienne. In addition to hosting, they performed a number of pieces—Velveeta played piano and sang "That's What's the Matter with Me" and "George" while educating the audience about the Pansy Craze of the 1930s. This craze was a brief period when drag and playing with concepts of gender performance was highly accepted.
In performing these older songs, cabaret style, and talking to the audience about drag tradition, Velveeta reminded us that history is not necessarily as "linear" as we sometimes make it out to be. For all the progress made in recent years for a variety of rights and freedoms, there have been some steps taken back.
Velveeta also performed "Manicure"—her dress took over two months to make and featured more than 800 fake nails. Let's just say she nailed it. Satine performed an emotional rendition of "Wildfire"; her wig went flying, but like a true artist, the show went on. The Sisters Charmeusienne then performed a rousing finale to "Q.U.E.E.N." and invited audience members to dance on stage, emphasizing the sense of community that drag inspires.
The show featured performances other than lip syncs and dance: senior Sophie Durbin movingly read "The Taintalogues," shedding light on a much neglected body part, and Pastor Jackie (Cuffe) read a thought-provoking sermon about hypocrisy and acceptance entitled "He's Coming!"
The audience also performed in some of the show's festivities. There was a walk-off between several male volunteers in high heels, an impassioned lip sync battle to "Wrecking Ball" and even a—non-alcoholic—drinking game.
When asked about their favorite part of Sunday's performance, Cuffe and Garcia said they "loved the amount of enthusiasm the audience brought to the show, both in their applause and their volunteering to step up and let go of stage fright." Additionally, some audience members offered tips to the performers, which is typical for drag shows in clubs and which Garcia and Cuffe welcomed. "It was a first for Lawrence's Drag Show and helped everyone feel appreciated and like real queens!"
Garcia and Cuffe were kind enough to share some final wisdom: "Drag is about so much more than makeup, lip sync and looking flawless. While, of course, we can appreciate those things, our deeper goal is to create a safe space to take all the divisions and constructions of society's 'game'—like gender, sexuality, race and class—and turn them on their head, show them for what they are and have fun playing with no rules for a night."
This rule bending through costume, song and dance led to many laughs and a lot of love during the show. Based on the raucous applause and the success of the performances, Garcia and Cuffe said that "when you can create that space not only for yourself as a performer, but also for an audience, people go crazy! That freedom from other people's expectations for you is a powerful medicine for identity, and hopefully it lasts longer than the makeup."