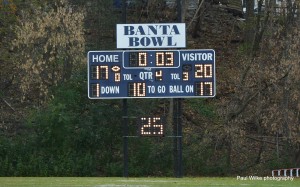 Banta Bowl Renovation Campaign Underway
In April 2013, Lawrence University President Jill Beck and the Board of Trustees approved a huge renovation plan for the Banta Bowl. The announcement was met with excitement by the athletic department, student-athletes, alumni, students and the community of Appleton as a whole.
The project is currently in the first step of the process: a campaign to raise the $5 million needed for the renovations. Thus far, the just over $2 million have been raised.
David C. Blowers '82 and Dr. Charles A. McKee '68 are the co-chairs for the campaign and both had illustrious athletic careers at Lawrence.
Blowers, who is on the Board of Trustees, played football for the Vikings and was the captain during his junior and senior years. He was part of three Midwest Conference (MWC) championship teams, including one that made it to the NCAA Division III semi-finals.
McKee is currently the university physician and was on the track and football team during his time as a student. McKee was a quarterback who earned three all-MWC selections and was selected as a first team Associated Press All-American in 1967. He played on two MWC championship football teams at Lawrence and also won six individual conference track championships.
The Banta Bowl is currently the home of the Lawrence University football team and has been for almost 50 years. Once the renovations are complete, it will be the home of more athletic teams. The field will be made wide enough for an NCAA sized soccer field and the surface will be replaced with a synthetic surface.
This will allow the Banta Bowl to be the home field of both the men's and women's soccer teams. The new surface and size will also allow other teams in the Appleton community to use the Banta Bowl.
Another part of the plan is renovating the locker room facilities and parking lot. Space will also be made for concessions, storage and public restrooms. In addition, the Banta Bowl will be improving lighting and getting a new LED scoreboard.
The final part of the renovation will be the expansion of the press box. This will not only improve the quality of the webcasts of the events, but will also be used by coaches from both teams. Coaches will have a good view of the games as well as an indoor space they can use.
After the project announcement, Lawrence athletic director Mike Szkodzinski said, "With its support of this fund-raising project, the Lawrence Board of Trustees is ensuring that the future of Vikings athletics has never been brighter. This project will help us attract the best scholar-athletes and also further connect Lawrence to the Appleton community."
The project is sure to provide a more enjoyable experience for fans as the bleachers are being completely replaced. The ultimate goal of the renovations is to benefit both the entire Lawrence community.