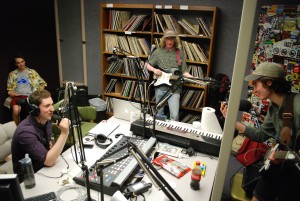 By Mackenzie Rech
This past Sunday, May 25 Lawrence's radio station WLFM collaborated with Globe Med to host the second annual "Radio for Rwanda," a 12-hour radio marathon hosted by "On Patrol with Peter Raffel."
The marathon ran from noon to midnight and raised a grand total of $3,335. The money raised goes to fund Globe Med's partner in Kigali, Rwanda, Health Development Initiative or HDI.  This program works to facilitate sexual and reproductive health education in Rwanda.
The idea came about last year when Peter Raffel, host of WLFM's weekly show "On Patrol," had a desire to do a community based event to bring together various aspects of campus while supporting a cause.
Last year, $3,333 was raised to support the HDI program in Rwanda. Raffel was somewhat apprehensive about repeating the event and living up to the huge success that occurred last year, but ultimately decided to do it again.
"I was pretty nervous about doing it again just because I didn't think there was anyway we can raise that much money, that's a crazy amount of money. But as soon as I came back to campus from being abroad people started asking 'Are you going to do it again?'
"Last year was so amazing and there was such an energy to it that was incredible and so I was like well I definitely have to," Raffel said.
This year's event not only managed to raise exactly 2 dollars more, but also engaged a broader audience in terms of donations. Abby Schubach, former co-president and current communications coordinator for GlobeMed comments on this change.
"Last year we had fewer people donate a lot of money but this year there were more people donating in smaller amounts which I think is really great," Schubach said.
This year's show incorporated a wide variety of entertainment from all parts of campus life. The show included musical performances by Porky's Groove Machine, the Involuntary String Band, Wild Firth, and the Appletones, as well as skits performed by Lawrence's Improv Troupe, Optimistic Feral Children. In addition to scheduled performances, guests came on throughout the day to converse and participate in various sketches and activities. Raffel reflects on one of his favorite moments during this year's show.
"Having President Burstein come down was great. I have wanted to talk to him obviously and think he's a cool guy and was like if we can get him involved in this thing that would be awesome," Raffel said.
Morgan Gray, junior and regular guest on Raffel's show, "On Patrol," discusses a specific piece she was involved with.
"Well, since there are a lot of bands and other people performing throughout the day, we decided it would be fun to perform a song. Drunk in Love is kind of popular right now so we figured, 'Hey, why not?' We sang it on the karaoke version which made it all the more ridiculous. It was goofy but it was a lot of fun. Anytime that you can bring Beyoncé into something related to charity, it just makes sense," Gray said.
Overall, participants enjoyed the event and felt that it was successful.
"It's fun seeing people get together for a cause that actually means something. There's sort of that adrenaline and excitement when you're trying to raise money for something," Gray said.
"That last hour and a half, the energy down there is just the greatest thing. Everyone is so about it and so there for this cause and it's really an amazing feeling," Raffel said.
Raffel's weekly show airs on WLFM Monday evenings from 7-9 PM. Raffel plans to release a best of "Radio for Rwanda" podcast some time this summer.