Emily Zawacki and Nathan Lawrence
Editor-in-Chief and Copy Chief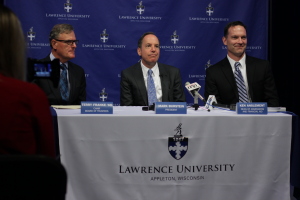 In an announcement on Wednesday, September 17, Lawrence University President Mark Burstein released news of an anonymous $25 million gift to the school's endowment. The largest donation in Lawrence history, its entirety will go toward an endowed scholarship fund to supplement the financial aid of future Lawrentians.
Though the donation acts as a matching gift, meaning the amount available to the school for use is a dollar-for-dollar match of what other donors give towards the same cause, school officials are optimistic for the immediate future.
"This donor has been extraordinarily generous, not only in the gift but in the flexibility in matching. We've already received $5 million, and we already have put that to use for scholarships this year, so we are hoping that will continue and that we will have the resources to support students as quickly as we possibly can," Burstein explained in an interview.
When combined with the necessary matching $25 million from other donors, the gift will reach a total of $50 million, a 20 percent addition to the university's overall $250 million endowment.
The $25 million gift announced today will also create a scholarship fund capable of producing roughly $1.25 million in scholarships per year alone.
"We've been a place through history where students from families of limited means really have a transformative experience here and they change the trajectory of their lives, and this will allow us to do that more," said Burstein.
At Lawrence, many students depend on need-based aid in order to help alleviate the high cost of a university education. Roughly 60 percent of Lawrentians receive an average of $35,600 in needs-based aid each year, and finding this aid outside of Lawrence's own packages is becoming increasingly difficult. Though federal and state programs continue to expand, the price of a college education, as well as the number of students vying for those funds, also continues to increase.
When active, the gift and its matching funds will support at least 50 Lawrence students in perpetuity. However, the school wants to continue to work toward ensuring financial stability for all of its students.
Approximately 30 institutions in the nation are considered "full-need" schools, meaning that they have the ability to make up for the entirety of a student's demonstrated financial need, the amount that school and federal methodology determines they cannot afford to pay themselves. Though "full-need" is not synonymous with "full-ride," it allows the vast majority of students from all backgrounds to attend a school without concern for additional financial burden.
"What we've really tried to do is bridge that gap between what a student's financial aid package is and what the total cost of attendance is to really try and minimize that burden that they're bearing," said Ken Anselment, dean of admissions and financial aid .
Lawrence's aim is eventually to join this elite group of "full-need" institutions, which includes Vassar College, Carleton College, Yale University and Bates College. To do this, Lawrence requires $70–75 million in new financial aid funding. When combined with the eventual matching $25 million, today's gift may bring the university more than two thirds of the way to this goal.
While some of the endowment has already been put to use supporting the financial needs of current students from the class of 2018, Anselment also stressed that its full potential won't be seen immediately.
"This is a gift that comes over a period of time, so patience is also one of the things I think [is important]," he explained. "This gift is a significant catalyst, and there's still a lot of work to be done."
As the university continues to look towards the future, President Burstein also urged members of the Lawrence community to consider the past and current generosity of its members and reflect on what these bonds between current, former and future Lawrentians have made possible.
"We are an extraordinary place, and part of the reason for that is the investment that the Lawrence community has made in this university," said Burstein. "We should all be grateful every day for that. It touches our lives on this campus in so many different ways."