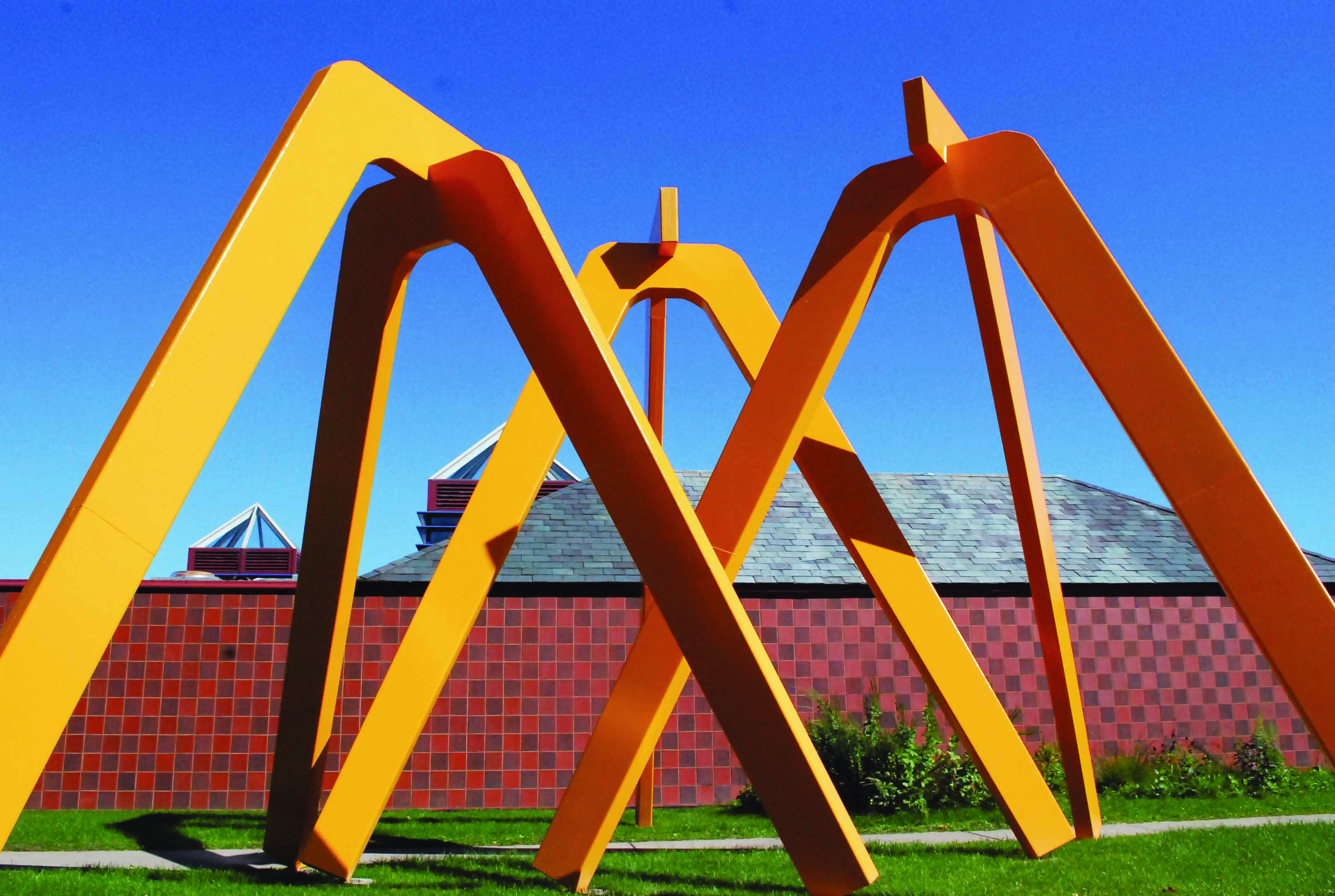 In early 1999, senior Art History major Benjamin Tilghman wrote an editorial for The Lawrentian lamenting the state of many sculptures on campus. In particular, he pointed to the condition of "Big Yellow," the sculpture next to the Wriston art center, how "frankly, the sculpture looks bad. The paint has faded or worn away over the years, and the sides of it are covered with old tape from postings."
Today, the yellow sculpture, officially titled "Aerial Landscape" is back in its former place, standing along the west walkway of Wriston and Tilghman is a professor of art history at Lawrence. Tilghman maintains that "if an institution like a university or museum acquires a work of art it makes a commitment to care for that work of art properly." However, he added that "Lawrence is doing a much better job of that now."
Seeing "Aerial Landscape" in its intended condition for the first time, Tilghman observed "that the spot looks a lot better with it back than it did the last few years with it missing. That whole area just felt kind of barren and unresolved… Until it went up I hadn't realized how much it was doing for that spot on campus."
"Aerial Landscape" was commissioned by former President Rick Warch in 1988 to accompany the then in-progress Wriston Art Center. Rolf Westphal was a visiting professor of studio art and sculpture at the time, and President Warch had seen one of Westphal's pieces in Finland, a similar 55-foot tall sculpture which appeared on a Finnish stamp. "Aerial Landscape" was funded by nearby snow blower manufacturers The Ariens Foundation, and installed later in '88.
After an alumnus expressed concern over the absent sculpture, which was taken down for restoration in 2010, a team of Lawrence faculty were assembled to assess the work necessary to put "Aerial Landscape" back up.
Over this past summer, the Boldt Company, a construction business, in tandem with Lawrence administration, re-installed the sculpture in its former location. John Luzinski was the Boldt project manager, and described the thorough reconstruction process, in which the Boldt Company "sanded the stainless steel and wet-sanded in spots with blemishes, then painted a double layer of epoxy."
Additionally, the bronze displays on the pedestals were cleaned and new plexiglass was installed to protect them. "John and the team from Boldt took this project on like they do public art installation every day," Assistant to the President Jake Woodford said.
Woodford was part of a team of Lawrence faculty going through the process of re-installing the piece, and spoke about the specific difficulty of determining the original color of the sculpture, which was eventually determined to be the yellow known as "Pantone 1235 C".
Wriston Gallery director Beth Zinsli was in close communication with Westphal during the re-installation of the piece, and explains his interest in the shape of a Finnish boat, which ferried community members to church on Sundays.
"It's called a church boat. He had seen these, and the shape of the tripod is supposed to reflect the stern and prow of one of these church boats." She also described the smaller boxes, called Bollards, that flank the trio of arches. "If you look closely you can see an elephant in one, and other strange landscapes. Rolf was telling me he remembered seeing children being led across campus along a rope and wanted to make something that would be of more interest for them, so he made a small scale thing that you have to approach and interact with".
Also a Lawrence alumna, Zinsli remembers "Aerial Landscape" and its role on campus. "When I was a student they were a really big part of the landscape and we held them in affection because they were a part of our image."
The restoration of the sculpture depended on funding from the Lawrence community. Zinsli explains "money from generous people in the Lawrence family came through and funded the restoration, a group of people on campus worked together to get it done, and now it's back." Director Zinsli went on to illustrate plans for a new plaque with more information explaining the piece, and official accession into the Lawrence collection this spring, at which time Westphal will be visiting campus for the piece's re-dedication. Official recognition by the university ensures consistent maintenance of the sculpture over years to come, preventing it from suffering another slow degeneration.
Associate professor of art, Rob Neilson commented on the need for maintenance of public art, explaining "even when I started doing public art, in the late '90s, people weren't really asking for maintenance plans… I think that now that's changed, that people are becoming aware that maintaining these works is equally important to acquiring them."
Neilson also remarked that the recent appearance and disappearance of "Scoflaw Sculpture," what appeared to be a stack of crates outside of Brokaw Hall, exemplified sculpture of a much less permanent nature, which he referred to as "guerilla art." When asked about future works of similarly brief lifetimes possibly appearing in the area, Neilson stated "I wouldn't be surprised if something showed up."