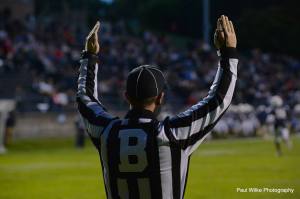 The Lawrence football team bounced back from their week one loss to Rockford with a dominating performance that led to their 59-0 win over Maranatha Baptist. The Vikings controlled all phases of the game, with the offense racking up 656 total yards while the defense held the Maranatha Sabercats to 76 total yards, including -32 rushing yards.
The defense also recorded five interceptions and sophomore kicker Patrick O'Mahoney earned Midwest Conference Special Teams Player of the week by going 8/8 on extra points and making a 21-yard field goal. O'Mahoney's eight extra points set the school record for most extra points in a game.
It was just the type of performance they were looking for heading into their bye week before a conference game.
"It was definitely good to get a win like that before conference games start because everybody on the team now has experience playing in college," said junior safety Zach Eichhorst. "We can't let this win go to our heads, though. We know we have a tough conference schedule ahead of us and we have to take it one game at a time."
The Vikings begin conference play this Saturday when they travel to Galesburg, Ill. to take on the Knox College Prairie Fire. The Prairie Fire will be looking for some revenge from their last meeting. Last year, the Vikings and Prairie Fire played a thrilling game at the Banta Bowl that saw the Vikings pull out the win with a touchdown on the very last play.
The Vikings look to gain another victory this year. "We know that Knox has this game marked on their calendar, but we're going to approach it like any other game," said junior center Patrick Pierson. "We've been preparing for them for two weeks and are feeling confident going into Saturday."
The Vikings look to improve their record in conference this season. Despite the Vikings winning only one game in conference last year, they were in many close games that could have gone either way.
"We had several conference games we feel like we could've won last year and are looking to improve on that this season," commented Pierson, "but right now, our focus is on extinguishing the Prairie Fire."