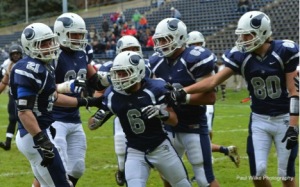 By Pablo Morales
Tyler Lueck: Football
Senior Tyler Lueck, who dons #6 on his Vikings football jersey, has amassed 57 yards on 7 receptions as a wide receiver in two games this season against Marantha Baptist University and Rockford University. Lueck, biology major from Glen Ellyn, Illinois sat down to talk with me about his love of Brett Favre, superpowers, and what makes football season so special.
 What was the best part of preseason?
The best part of the pre season is just hanging out with the guys and building friendships.
How has the team dynamic changed from last year to this year?
In terms of dynamics I don't think we have changed all that much. We have a bond that allows us to act as a family and that's something we have always been proud of.
If you could have any superpower, what would it be?
My superpower would be to have super speed like Zoom.
Looking back on your football career, what has been your favorite memory?
My favorite memory on the field is probably the win against Knox last year. The emotion that went into that game and winning in the last seconds created an experience like no other. Off the field it's the friendships that have been formed.
If you could meet any famous player, who would it be and why?
If I could meet any football player it would have to be Brett Favre. Watching him play as a kid was a lot of fun and I think he showed that's what football is all about.
If you were stuck on a desert island with one teammate, who would it be and why?
Danny Taylor cause of his spiritual connection and understanding of nature. Plus he hunts with his bare hands.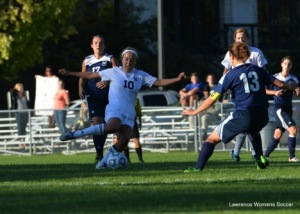 Casey Merkle: Women's Soccer
Casey Merkle, a biology major from Barrington, Illinois, is off to a hot start this season. The sophomore forward scored four goals and had another assist in a game against Marantha Baptist University. Merkle has scored a total of six goals in seven games and is looking to continue her dominance on the field. Here, she discusses preseason, her favorite soccer memories and pre-game rituals.
What was your favorite part of preseason?
Not running as much as we did last year. Also, getting to know the new incoming members.
How has the team dynamic changed since last year?
We all get along really well together and our play has changed to focus more on possession.
What was it like to score four goals in one game against Marantha Baptist?
It allowed me to build some confidence out on the field. I hope I can score more in our next games.
How has your role on the team changed from last year to this year?
This year I am playing more forward and just trying to hold the ball so we can get our team to attack together. I also feel like I've been talking more on the field and hearing other team members help me with what I need to do.
Looking back on your soccer playing career, what was your favorite memory?
My favorite memory from my soccer-playing career was scoring my first collegiate goal. That's a really great feeling. My teammate Eva Tourangeau just scored her first collegiate goal at the Marantha Baptist game (and scored another!) and it was awesome to see her get that same excitement on her face.
Do you have a pregame ritual that takes place before every game?
My pregame ritual is to just try and stay loose. Sometimes that means dancing or singing, or just joking around with the team.