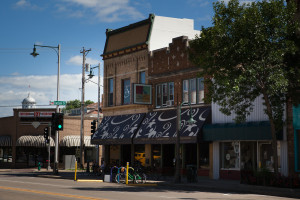 By Margaret Koss
The beginning of the academic year at Lawrence has brought a multitude of changes for students, from new faculty to new dining options. Today, another new program is being put in place: Downtown Deals Plus, in which an assortment of businesses in downtown Appleton have arranged specials just for Lawrentians.
Students will be able to use their IDs to get discounts at a wide variety of businesses – from 25 cents off of coffee at Harmony Café to up to 75% off special events at the Trout Museum of Art. Window decals designed by Monique Rogers, graphic designer in the communications department, will alert students to which businesses are offering deals, and wallet cards that students will receive in their SPC boxes will provide information about deals being offered.
Amy Hutchings, the Student Office Assistant for the Office of the President, described the program as being something attempted previously and finally accomplished during the past summer. Hutchings and Jake Woodford, the Assistant to the President, collaborated with Anne Wiegman, the Marketing Director for Appleton Downtown Inc., to generate interest in businesses and decide on discounts business owners would be comfortable with offering. "There's always been a gap," Hutchings commented on the separation between Lawrence and downtown Appleton. "It was a chance to get students to go downtown more, and to help local businesses—which is important when you're a part of a community."
"Lawrence isn't just in downtown—it's a part of it," Kasey Corrado, social media specialist, pointed out. She echoed Hutchings' sentiments that the goal of this project is to foster the relationship between the city of Appleton and the community of Lawrence—and that it's been very successful. "They've been incredibly receptive," Corrado said about the businesses they worked with. "And I think it really works in their benefit, because you guys live here. They have 1500 people living here, just a short walk away."
Corrado has been meeting with business owners to learn more about their backstories and will be showcasing different businesses through Lawrence's social media platforms, as well as offering reminders as to what deals are out there. This creates an opportunity for students to feel even more connected to the businesses they shop at, because they'll be able to learn about the people behind the products they buy.
Although following Lawrence on Instagram and Twitter will keep students in the loop, Hutchings, Woodford and Corrado all stressed that students should check the Lawrence website so that they always have the most current information. The page provides a map of College Avenue with an alphabetical list of businesses offering deals and details as to what those deals are.
"The website will be updated monthly, so if any current discounts change or if a business is added, that will be the most current," Woodford said. "We are hoping to expand. We want to move out of the downtown area," Hutchings added. So, if this program does branch out throughout the academic year, it will be posted on the website.
If you haven't had the chance to explore College Avenue yet, now is the time—there is plenty to discover at a price that is friendly to college students. "I just think it's exciting that a lot of students are going to get the opportunity to see downtown more. Students will be encouraged to get out of the Lawrence bubble a little," Hutchings remarked. "It will be exciting to see how far we can spread this thing."
Check out the website at
www.lawrence.edu/admissions/why/this-is-appleton/ddplus, follow Lawrence on Twitter and Instagram (@LawrenceUni), and check your SPC box for your wallet card!