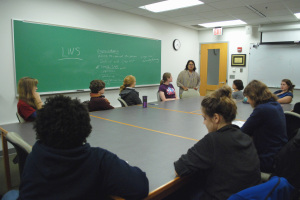 By Megan Corum
Lawrence Women in Science (LWS) is a new club focused on supporting any woman who is interested in science.
LWS had their first meeting on Tuesday, Sept. 30, and will meet weekly on Tuesdays. Throughout the school year LWS plans to bring in various speakers as well as volunteer in the community.
LWS president and senior Sheeniza Shah is one of the founders of LWS and said she helped found the club to make "a place [for women in science] to congregate and support one another."
Other founders include Ashley Coenen, Amber Betzold, Weronika Gajowniczek and Erika Roedl.
Faculty sponsor and Professor of Geology Marica Bjørnerud said that the club is a "great idea for women in science to get together and have a venue to talk about challenges and aspirations."
"The Women in Science club is a good way to build awareness and confidence about navigating the social aspects of science," she said.
Another goal of LWS is to "build community and provide resources," Shah said. Information about different science-based conferences, such as the American Physics Society Conferences for Undergraduate Women in Physics in January and the American Chemical Society's National Meeting and Expo in March, is just one of the resources.
LWS also wants to help women with applying to graduate school and finding internships.
"The cultural climate for women scientists has certainly changed for the better since I was in graduate school," Bjørnerud said, "but there are still pockets of old misogynist thinking out there that our students need to be aware of as they venture from the friendly, inclusive, enlightened community at Lawrence into the world of academe or work."
"If you're a woman and you're interested in science, this is a place you should come," Shah said.