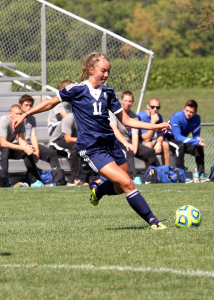 On Saturday, Sept. 27, the Lawrence University women's soccer team (2-5-1, 0-1-1 MWC) made the trip to Illinois to face undefeated Lake Forest College (11-0, 3-0 MWC) in a high-intensity conference competition.
Ranked 20th in the nation and 1st in the Midwest Conference (MWC), the Foresters proved stimulating opponents for the Lawrence women. Despite falling 2-1, the Vikings successfully held their own for most of the game, proving their ability and drive to compete at this high level.
Lake Forest hit the field running and fired several close attempts at the Lawrence goal early in the first half. Senior Dani Glass defended the goal well, making many impressive saves. Unfortunately Lake Forest managed to get around Glass about 28 minutes in, leaving the score at 1-0 in the Foresters' favor at the half.
The Vikings rallied and retaliated in the second half, determined to put up a fight. Senior Keli Muchowski sent a Lawrence goal into the net just under four minutes into the half off assists by juniors Lucy Brown and Genna Matt.
The Foresters tried to swing the momentum back their way, but the Lawrence defense worked hard to fend off the relentless attacks on the goal. The opponents lost a bit of their composure, perhaps feeling uneasy with this unexpected threat to their early undefeated record.
"We did possess the ball more than they thought we were capable of. We've been working on our possession," said sophomore Casey Merkle. "When they started having trouble they were getting really frustrated. That was satisfying to see."
Despite the Vikings' aggressive play, however, Lake Forest slipped one more goal in the last four minutes, pulling ahead just close enough to the buzzer to prevent Lawrence from striking back. The dynamic game ended with a final score of 2-1 in Lake Forest's favor.
"We worked hard and we deserved the win," said Merkle, "so it was kind of hard to accept that loss. But I think as a whole the team did really well against a top-ranked team. Looking at our rank coming into the season, they were not expecting us to be that challenging.
If we had won this game we would have been very intimidating to other teams the rest of the season. Lake Forest is really intimidating. So is St. Norbert, who we play at home in a few weeks. We're looking forward to that."
As the Foresters move on to a series of home games against Grinnell College (6-4, 3-0 MWC) and Cornell College (6-3-1, 2-1 MWC) this weekend, Lawrence has their own home turf to defend.
On Saturday, Oct. 4, the Vikings will host Illinois College (6-3, 0-1 MWC) at 1:30 pm. The next afternoon, Oct. 5, the Lady Vikes will return to Whiting Field West to take on Knox College (3-6, 0-2 MWC), again at 1:30 pm.