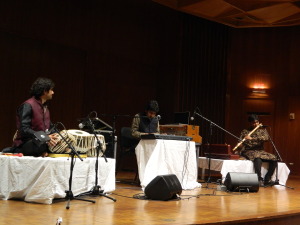 By Izzy Yellen
Friday night, I relaxed while listening to Space, Wind and Fire, an instrumental trio that came to play in Harper Hall. The trio consists of Abhijit Pohankar on keyboard, Ninad Mulaokar on flute and Ojas Adhiya on table—a drum-like instrument. Together, they play classical Indian music mixed with other genres and styles. The hybrids they created made for quite the interesting and diverse concert.
The general concept of the trio is that they each represent one of the titular elements. Pohankar represents space, being on an electronic keyboard, Mulaokar represents wind, the origin of his sound and Adhiya represents fire, for the sporadic and, to put it simply, fiery nature of his playing. The concept was easy to detect throughout the concert, but hearing all elements come together as one kept the ear engaged.
There were a few things that really made this concert stand out to me. The strong community the band helped create, and the way they felt about music and their overall talent and interaction as a band were just a couple examples.
The band's community was definite when particular pieces were played, specifically well-known tunes and Bollywood themes with vocals. During these, many audience members sang along, some quietly and some loudly. The sound filled the hall and not only connected the audience to the band, but also audience members to each other. Nearly everyone was singing together as a whole, and as something larger than themselves.
It was clear that this is how Space, Wind and Fire wanted their music to be treated. Experiencing music with others is important because music is a language that knows no barriers. It doesn't matter what language you speak or your background, you can still enjoy music the same as anyone else. Pohankar encouraged this way of listening to and thinking about music by talking about it in between pieces.
Despite the other main things I loved about this concert, what struck me most was the sheer talent they all had together. Their music was almost completely improvised, but that didn't stop them from finding a common groove or even figuring out what each other were playing and mimicking it. Interaction is extremely important in their two main styles—Indian and jazz—and they took that by the horns.
This concert really challenged my ears and introduced me to some new ways of hearing music. I try to listen to a lot of world music to keep my ears open, but it's a lot different to seeing it live. Despite that, it's still very important to experience it live. Too many people nowadays stick to one type of music, but fail to realize how important it is to branch out.
Readers, I beg of you, challenge your ears. Go to a concert you might not normally go to. Listen to some crazy stuff that's a polar opposite of what you listen to now. It'll be worth it and help you keep an open ear—and mind.