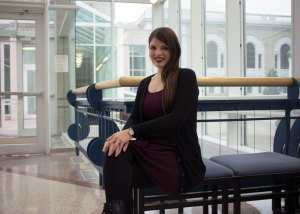 By Lizzy Weekes
Music is the driving force behind many lives, especially here at Lawrence. "Music is my life"– an expression that could be heard coming from a myriad of students on campus. But, to Graycie Gardner, music is much more. She explains music as being "the fundamental expression of the human soul."
Gardner is a fifth year student working towards majors in both vocal performance and English. The art of music is nothing new to her. She has been singing since the age of five and spent time as part of a professional children's choir. However, her talents were never limited to singing. She composes music, writes novels(she writes novels?) and poetry, reads everything, and plays violin.
"All of those different facets really strengthened my foundation as a student," remarks Gardner. This sentiment highlights her true regard for the art. "Music is under-appreciated especially in this society where music programs are constantly getting cut. Music should be the last thing to go."
Gardner wishes for a deeper appreciation and realization of the art form she most readily practices. Music builds strong foundations children can carry through life. With her musical performances, Gardner strives to take what she knows to fulfill the true purpose of music. She believes in "taking the music beyond the page and finding a common human emotion. Music is about creating a bond."
The universality of music is something that demands to be recognized. Music "needs to be uplifted, because people don't even realize how big a part of their lives it is. Music is the common denominator in every equation in life," Gardner said passionately.
Despite its ubiquity, music is sadly overlooked, a reality Gardner wishes to change.
"A lot of the time, music is dismissed. So many parents, so many teachers say 'Oh you're going into music? Singing? I didn't know you get a degree in singing.'" She stresses the ignorance she encounters by many outsiders to the musical realm.
Music also provides musicians with the ability to be team players in orchestral and choral settings.
"You have to think like a team. It's a harder skill to acquire and an even more important one to be able to work in an ensemble where every single person is valued," says Gardner, even though her training may seem contrary to this pro-team attitude.
Gardner is a classically trained singer in the style of opera, with inspirations including Mozart, Dvorak and Handel. But Gardner wholeheartedly believes in a strong foundation.
"Establishing a solid vocal technique expands the possibilities rather than limits them," she explains. In this manner, she can be both soloist and chorister, for "a well-rounded musician is the best kind of musician."
Gardner plans on continuing her career in music after Lawrence. She is auditioning for graduate schools this fall in order to get her masters degree in vocal performance.
"I'm always striving to be better. Singing the note well isn't good enough. I'm striving for that next level of excellence," she comments. "You'll never be the best, but I think the notion of being the best that you can be is always going to keep you going."
Gardner is optimistic of her future as she journeys on, even if things do not work as planned.
"Music will always be a part of my life; I just can't see myself doing anything else," she says. "If I don't become a professional singer, I'll always be a singer."