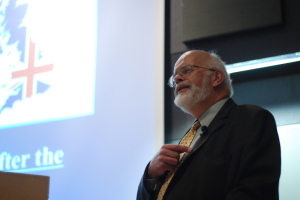 By Megan Corum
Professor Michael Fosdal of the Lawrence University London Centre lectured about the impact of the movement for Scottish independence on Thursday, Oct. 2.
The lecture, called "Divided Kingdom: Britain after the Scottish Independence Referendum," was part of the 2014–2015 Povolny Lecture Series in International Studies. The theme of this year's series is "Nationalism, Succession, and Intervention."
On Sept. 18, 2014, the citizens of Scotland voted against becoming a country independent of the United Kingdom. Fosdal cited the fact that there is "not one single Scottish identity" and "not one single Scottish point of view" as one of the reasons for this result.
The Scottish Nationalists gained a majority in Parliament in 2012 and started working on an independence referendum. Other parties could "no longer look at the Nationalists and say 'what a bunch of weirdos who have had too many whiskeys,'" Fosdal said.
As voting grew close, "the undecided were starting to move towards the 'yes' campaign," he said, which caused panic in London. Parliament leaders "literally rushed up to Scotland to say 'no, no, no, stay!'"
The Parliament "promised lots and lots of nice goodies" if Scotland would stay part of the United Kingdom, Fosdal said. "The Scottish Parliament will be permanent but there's no mechanism of making anything permanent in the United Kingdom."
Voting itself was really important because people "went to the polls in droves," he said, adding that about 84% of the electorate voted. "People can become involved in politics if you ask them the right questions."
Many of the finer details of independent statehood were not worked out at the time of the referendum, including what currency to use and who would serve as head of the state. "If you want to keep the pound and you want to keep the Queen, why are we going through this?" Fosdal said.
"In a sense, we are rewriting a British constitution that does not exist," he said.
"We can all learn a lot from looking at the experiences of other societies and countries," Fosdal said. "This then helps us to turn around and look at our own society in a slightly clearer way."
Senior Jessica Teuber, who went to the London Centre last winter, said that "it's great to see [Fosdal] in the Lawrence setting. He's so politically knowledgeable that it's nice to hear him talk politics."
Senior Kerstin Brolsma also attended the lecture. "I'm a Chinese and Government major so it was really interesting to learn about nationalism in an area I'm not familiar with," she said.
The Mojmir Povolny Lectureship in International Studies honors Emeritus Professor of Government Mojmir Povolny, who taught at Lawrence from 1958–1987. The lecture series was named after him upon his retirement.
The Povolny Lectureship continues on Oct. 28, featuring David Brandenberger of the University of Richmond with a lecture entitled "Joseph Stalin and the Accidental Creation of a Modern Russian National Identity."