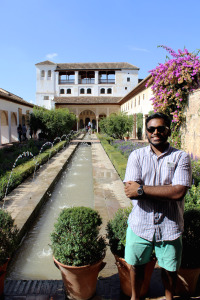 By Wesley Varughese
Four down, seven more to go.
No, not drinks. Countries. That first number has been going up and that second number has been going down by the week. I've been to Portugal, Germany, Austria and Spain, all in the last month. I still have planned trips to Morocco, Italy, the Netherlands, the United Kingdom, Ireland, Belgium and Luxembourg to head out to in the last few months that I am still here.
For the entirety of the summer, I've been working on a list of goals I want to accomplish in my life. I recently transferred that list to the notes in my iPhone so I can add, change, and edit as need be when my goals change. Technology these days…woo! But to me, one of the most important goals on that list is to have travelled and visited all seven continents by the time I am 25. I wanted to make the most of my first time in Europe, so after working my 40 hour per week job this summer, I booked as many trips as I could. I had to experience as much as I could of this amazing part of the world before I come back to the states. After all, you only study abroad once. Maybe twice if you're lucky.
Of course, studying in Granada, Spain has been the most rewarding of my experiences as I learn the beautiful language, enjoy the culture of the city and begin to develop lifelong relationships with the people I have been meeting while abroad. Granada is the best of both worlds; it can be a large metropolitan getaway and a small town at the same time. There are of course a few centerpieces that make Granada unique. First off, the Universidad de Granada currently enrolls about 88,000 students. Yes, 88,000! Imagine all of those kids eating lunch at the same time in Andrew Commons. Then, there's the Alhambra Palace.  Granada had Arabic roots before it was taken over by the Spanish, and this royal palace is a symbol of that history. It is one of the most gorgeous parts of the city, bringing visitors from all over the world yearly, just to see this magnificent site. Last but not least—there are a few more, but I don't want to make you regret being at Lawrence this term—are the tapas. Sure, we have tapas in the states, the appetizers and snacks of Spanish cuisine that you can get at restaurants. But the tapas in Granada are one of a kind because of this sole fact: you buy one drink for about two Euros, whether it be a beer, glass of wine or a cup of water, and all of a sudden, while taking a swig of your drink, your waiter comes out with two or three tapas for you…for free! This has been my fellow students' and my go-to when we need a meal after a long day of class, and it is the perfect fulfillment after a good day's work.
Obviously, when studying abroad, you come back home and people expect tons of souvenirs and loads of pictures. I won't deny that, I'll probably have more souvenirs and even more pictures—already at 3,000 pictures a month in—than the normal student. But there's more to studying abroad than sharing the experiences and reminiscing about the memories. Meeting folk from exotic cultures will teach you that the way you look at the world—perhaps through the lens of mass media—is not the same way everybody else does. You could even be completely wrong about it. I promise you, traveling will give you some joy and challenges, but getting past the challenges will give you some of the greatest joys of all.
So why do I travel? Because it fundamentally transforms me every time I go to a new place. By taking a break from my daily life, unplugging from the ways of my society and engaging in new activities in new places, I have an easier opportunity to release unwanted habits. It is truly empowering to surround myself with people who do not know the encyclopedia of my past. It reinforces my willingness to broaden my horizons, to get unstuck and to move in new directions.
Plus, who doesn't want to brag about all the different stamps in their passport when it's story time back home?