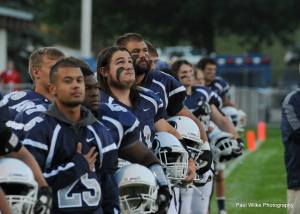 The Lawrence Football team returned home this past Saturday, Oct. 4, to play the first of a two game home-stand as they took on the Pioneers of Grinnell College. The Vikings were hoping for a good rebound performance following a loss against Knox College in Galesburg, Ill. the previous week.
The Vikings struggled to find a rhythm offensively as Lawrence quarterback Tanner Schuh suffered a collarbone injury on the first drive of the game and was replaced by freshman Chance Byrd.
This allowed the Pioneers to get off to a fast start with a 10 play 59 yard drive for a touchdown and also forced the Vikings offense into a safety and held a 9-0 lead after the first quarter. The offense had no answers for Grinnell's defense and Grinnell seized control by halftime with a 29-0 lead.
The Vikings got on the board in the third quarter with a touchdown pass from Byrd to fellow freshman Cole Erickson on a 31 yard strike. This came on the first play of the drive after senior linebacker Brandon Taylor intercepted a Grinnell pass to give the Vikings the ball. The offense couldn't get anything else going from there as the Vikings lost by a final score of 29-7 and moved to 1-3 on the year.
Cole Erickson finished with two catches for 41 yards and a touchdown for the Vikings. Other notable performers included Brandon Taylor and sophomore defensive end Tony Harth who both had interceptions.
Turnovers were a big factor as to why the offense had trouble moving the ball. The Vikings committed five turnovers in the game. Slow starts have hurt the Vikings in all three of their losses this season. They have been outscored 83-6 in the first half of those games.
"Bottom line, we have to start faster," said sophomore guard Pip Wasserburg, "we're working hard in practice this week and we're confident that our coaching staff will find ways to get our offense back on track."
"We've had a lot of opportunities offensively that we haven't capitalized on," commented sophomore wide receiver Wes Hetcher. "We're a young team and we have to stop making young mistakes. Our defense has played well, and offensively we can't put them in tough situations like we've been doing."
Lawrence will stay at home this weekend and will take on the Beloit Buccaneers (2-2) on Saturday, October 11 at 1:00 p.m. "We're on to Beloit," finished Wasserburg.