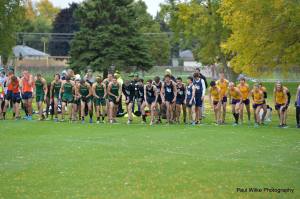 By Henry Geraghty
The Lawrence Vikings put up a very impressive fight at the Gene Davis invitational this weekend. Despite the challenging weather conditions, both Men's and Women's Cross Country ran with confidence in their first home meet in over two years.
The women finished in second place, and the men finished in third. Junior runner Cam Davies feels that both teams did well considering the cold and wet terrain, but still feels that there is a lot of work to be done.
"I think this team's expectation this year, as it has been every year since I've been here, is to win conference, and we expect our teams to be able to win," Davies commented. "It was our first good meet of the year, I think, but there is still room for improvement."
The women finished with a score of 48 points, narrowly beaten out by St. Norbert College with a score of 47. Junior Clare Bruning led the way for the Lady Vikings and finished in second place, with a time of 23:29.95, only ten seconds behind first place.
Bruning's performance was backed up by strong running from sophomore Cora Williams (8th), freshman Erin Schrobilgen (10th), freshman Hannah Kinzer (13th) and sophomore Elin Karlson (15th).
Only two points behind UW-Oshkosh, the men finished with a score of 80 points. Max Edwards, a sophomore transfer from Marquette University, was named Midwest Conference Runner of the Week after placing second overall. Edward's time of 26:42.12 was just six seconds behind the first place.
Edwards had a strong supporting cast, including senior Kyle Dockery (5th), Cam Davies (13th), junior Jonah Laursen (24th) and senior Pat Mangan (36th).
Overall, the Vikings are very optimistic about the results from this weekend. Davies expressed his approval of the results, taking note of the previous week's Roy Griak meet. "I think both teams really needed this week," said Davies. "The Roy Griak meet was really difficult on everyone, and I think walking out of this meet the mood has significantly changed."
Despite the cold weather, a large number of Lawrence students and alumni rose bright and early to see the Vikings race, running excitedly around the golf course to cheer their school on, which was well-received by the runners. "Coming back and finally having that home field advantage was great", said Davies.
The Vikings look forward to having that same home field advantage come conference time on Nov. 1. The Midwest Conference championships will be held at the Gene Davis Golf Course, located one mile away from campus.