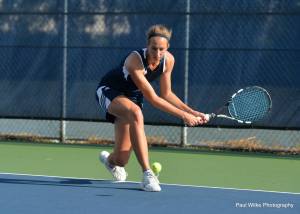 The Women's Tennis team had another busy weekend playing two conference matches as their season begins to wind down. First up for the Vikings was Cornell College on Saturday, Oct. 4, in Green Bay, Wis. Cornell was not to be messed with and gave a strong showing in both their doubles and singles play.
Cornell's Ariana Hudson narrowly defeated Senior captain Hannah Geoffrey, though Geoffrey played well in the match. Hudson won the first set 6-1 but Geoffrey came back to win the next set 6-1.The tie-breaker was settled in Cornell's favor though, leaving them with their first point of the morning.
Sophomore Katie Frankel played an outstanding singles tennis, defeating her opponent Kezia Koroma 6-2 and 6-4. Frankel gave the Vikings their only win in singles play for that day.
As far as doubles competition went, the pair of Geoffrey and Frankel was unstoppable, beating their opponent 9-8. This pair also gave Lawrence their only doubles win, leaving them at 2 points for that day. Cornell walked away with 7 points and the conference win.
A new day and a new opponent for the Vikings. On Sunday, Oct. 5, the Vikings took on another conference competitor, Grinnell College. Again, it was Frankel leading the singles competition for Lawrence, defeating her opponent 7-5 in both matches.
Senior Melissa Heeren also had a great showing, with a win of 6-3 and 6-4 in her matches against Grinnell's Briannah Wilson. Doubles did not go well for the Vikings this time as Grinnell was able to sweep the competition and walk away with all three victories. At the end of the match the Vikings lost 2-7, leaving them with a 3-4 record in Midwest Conference standings.
Senior player Tess Vogel felt optimistic about the Vikings play this past weekend, "We played two tough matches this weekend against Cornell and Grinnell. One doubles (Hannah and Katie) pulled out an awesome win over Cornell on Saturday and Katie continued this winning streak during her two singles matches," said Vogel.
"These teams had some great players, but we fought hard and supported each other. I think we came away from these matches with a better understanding of what we need to work on. Hopefully we'll capitalize on these things during practice and give our best at our next match."
The Vikings' next take on Knox College and Illinois College this weekend. These could prove to be two more tough conference matches for Lawrence.