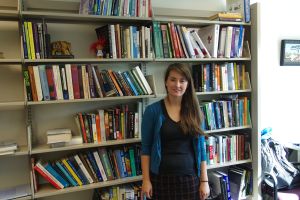 By Ollin Garcia Pliego
Assistant Professor of Economics: Hillary Caruthers
Raised in Federal Way, Wash., Professor Caruthers arrived at Lawrence in August of this year after teaching at Berry College. She shares her interest in "the music and the food in Seattle," which include rock and folk music, as well as Korean and Japanese food.
Her favorite color is green and showed off her pepper plant, a gift from Associate Professor of Government Steven Wulf. Among her other office decorations are a Green Bay Packers "Cheesehead" hat and a very authentic Viking helmet with horns.
She is also the owner of a troll who resides in one of her bookshelves and wears the shirt of her alma mater, Brigham Young University.
Caruthers said that her favorite thing about college was "the area, right next to the mountains" and the professors, who were "really impressive and inspiring." Something that she enjoyed about BYU was the sober campus, which made students "sort of goofy," allowing them "to make their own fun."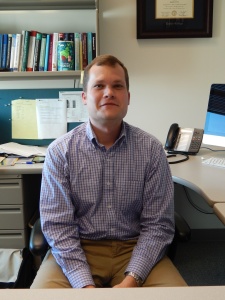 Assistant Professor of Statistics: Adam Loy
Professor Loy started teaching at Lawrence during the fall of last year. Born in Eldersburg, Md., Loy shared his favorite thing about his hometown: "The proximity to Baltimore and Washington D.C. You can see the sites and all that and still not live in the city,"
His favorite color? "Blue. I have no idea why. You have to ask three year-old Adam," he said. Maybe it is a coincidence that his favorite color is the same as the Lawrence Vikings.
Loy attended Luther College in Decorah, Iowa, where he received a B.A. in Mathematics/Statistics in 2007. His favorite experience was a "tour [of] Japan and China with the Luther College concert band. Just a month going to something like 18 cities throughout Japan," an experience that he hasn't forgetten, "and then Beijing in China, just playing concerts, sight-seeing, that was really cool," he recalled.
He loved being in undergrad because it was a great "being in a small liberal arts residential college." He is happy to be in the same atmosphere again, although this time as a professor.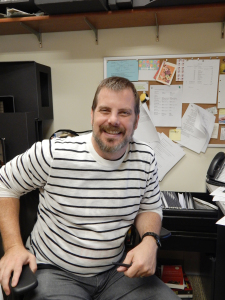 Assistant Professor of Theatre Arts: Keith E. Pitts
Born in Bishop, Texas, just about an hour north of Mexico, Professor Pitts has been at Lawrence since 2012, although he recently obtained a tenure track teaching position, which started in September of this year. Pitts's interests include set design and stage coordination.
Pitts admitted to having a hard time when choosing his favorite thing about Bishop, because "it's 3,000 people, a farm community and chemical plants," Pitts explained. "From an early age I never felt like I belonged there." As a matter of fact, Pitts considers Chicago to be his hometown, since he lived there for 13 years.
Pitts explained his favorite color, saying "I like blues. I think is the coming effect of blue in the sense that I try so much in my life to be, peaceful," Blue relaxes and makes him think of nature: the sky and water.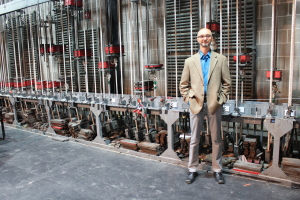 Associate Professor of Music and Director of Opera Studies: Copeland Woodruff
Professor Woodruff arrived at Lawrence in early July and has been teaching here for roughly four weeks. Raised in Russellville, Ala., he admitted liking the people from his hometown, because "it's a very close community, it's a small town; we were farmers."
Woodruff's favorite color is purple. "I've liked purple since I'm 3 years-old," he said. Although the Vikings currently live only inside Lawrentians' hearts, Woodruff wholeheartedly chose to be named "Copeland the Intrepid" if we were in the Scandinavian or Norwegian eighth century.
Woodruff's hobbies include scuba diving, and he candidly acknowledged that his favorite animal is the octopus. "[They're] pretty amazing creatures, incredibly intelligent," he explained, although he made it clear that he would never eat them because, in fact, he's a vegetarian.
Woodruff tells us about his favorite opera star, Joyce DiDonato, who's "someone who marries singing and acting beautifully."