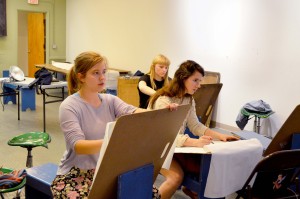 By Anastasia Skliarova
Visual art has a stronghold at Lawrence University. Chalk art is used to brighten our walkways and educate passersby about upcoming events or important campus causes. Yarn bombs cover branches and add a touch of whimsy to bare trees in the winter. Prints and paintings cover the walls in many academic buildings. Hell, we even have a residential house devoted to art (you should check out Art House, it's cool).
Conveniently enough, Lawrence has a club devoted to the practice of making, not just seeing, visual art, which is an experience all its own. Sophomore Alexis Ames is the president of the Wriston Art Collective.
As she explained, this is "a club whose members sets aside time every week for the pure purpose of making art." Members "seek to make and share artwork with one another in order to become better artists, whether through practicing figure drawing with live models, or the benefits of creative criticism." This club offers artists the opportunity to be open with their art and receive constructive feedback in a non judgmental environment.
In addition to involvement on-campus, the Wriston Art Collective takes annual trips to Björklunden and to Chicago museums, which Ames described as "key features of the club."
Ames described the main goal of the club as "providing a creative outlet: whether or not you are an art major or have any artistic background is beside the point." This group offers those who want to try something new the chance to do so.
"We want art to be approachable, not daunting and scary!" She said. "Art is a great way to relieve the mind of stress and get to know yourself a bit better." In a challenging environment like Lawrence's, having a creative session each week seems like it could do wonders for the frazzled and expressive.
Ames first encountered the Wriston Art Collective her freshman year.
"I was very impressed by the openness of the club. I make art every day, but making art alone and making art with a community are two completely different beasts!"
Ames added, "It felt wonderful to take time every week to meet with other creative people from a variety of study backgrounds and see what they were making. I found many great connections through Wriston Art Collective!"
According to Ames, "This club is for anyone willing to put a little effort into improving their art skills," or for students who "are looking for something different and low-key to do, or perhaps want to push themselves out of their comfort zone."
"Being a 'good' artist is a prerequisite. Like your mama always said, 'practice, practice, practice.' The benefits of it are very rewarding," Ames added. The weekly meetings help keep artists accountable for the effort they put into the process.
This club provides many occasions to use creative, artistic energy in order to make progress in a number of ways. Ames believes that "art is everywhere, whether we acknowledge it or not. To fully embrace that fact and learn how to make, use and appreciate art can bring us closer to better understanding the rest of the world and ourselves."
Meetings are held every Tuesday from 7 p.m. to 9 p.m. in Room 104 of Memorial Hall. Anyone interested in joining the Wriston Art Collective can e-mail Ames at alexis.b.ames@lawrence.edu or simply show up to a meeting. The group also has a Facebook page, where one can see important updates as well as share their work and get nearly instant feedback from other club members.