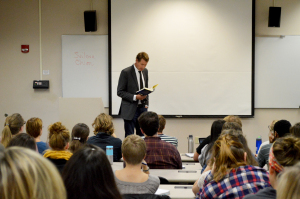 Tom Zoellner, author and Lawrence alumnus of the Class of '91, has written books on subjects such as uranium, diamonds and co-written the memoirs of Paul Rusesabagina. For his work, he has been acclaimed by the likes of Richard Bausch and Jon Stewart. Zoellner, who was portrayed by Don Cheadle in the Academy Award nominated film "Hotel Rwanda," does not look like a man who has accomplished as much as he has. Dressed in tweed, with striped socks and a messy head of hair, he looks more like an actor from the 70s or a professor here at Lawrence than the acclaimed journalist, historian and memoirist that he is.
To be fair, that last description isn't really indicative of Zoellner's many gifts. Similar to his obvious forbearer, Geoff Dyer (though Zoellner has yet to venture into fiction like him), Zoellner's books combine personal memoir, history, politics, literature, culture and science into a single package, creating works that are distinctly about something yet a part of their own genre. The best way to describe him would be to call him a non-fiction author, with all the forms that category entails.
Thursday, October 9, in Main Hall 201, Zoellner read and spoke before students and professors about his newest book "Train: Riding the Rails That Created the Modern World—from the Trans-Siberian to the Southwest Chief," which is out in paperback on October 28, and currently available in hardcover from Penguin Books.
The event was packed and the mood was light, so positive that even students who had come on assignment were excited to be there. It got even lighter when a picture of Zoellner from an old yearbook was shown, and let us just say the style of that time period of the late 80s-early 90s was well represented, much to his audible chagrin.
After that introduction, we got to the reading. Rather than jumping into a particular part, Zoellner chose to start at the beginning even joking that he'd skip over the boring parts for us. As he read the introduction, with occasional commentary, the listeners heard of the dawn of the railroads, how they were so marvelous and incomprehensible and new that initially people couldn't fully believe they existed. We learned about how the railroad system as we know it has created the modern economy and culture, and we began to understand why trains capture so much of our imagination, be it "Murder on the Orient Express" or this year's "Snowpiercer."
But perhaps the thing we learned most about, besides trains, was Zoellner himself. He moved like Bob Fosse on the stage, occasionally striking the floor with his foot as if keeping time, looking up from his book to emphasize how weird something was in a funny bit of candid commentary.
The best section of the reading was the beginning of the beginning. Zoellner took us back to when he was enrolled here, when he saw the snow fall from inside Mudd for the first time—which he described as "Incredibly exotic for a boy from the Southwest"—and of memories of walking downtown Appleton. He told stories about professors who even were there when he was a student 20 odd years ago, and stories of just traveling along trains as a student, watching the scenery go by, observing the passengers and enjoying every moment.
He closed his Question and Answer session with a smile. "It's great to be back," he said.