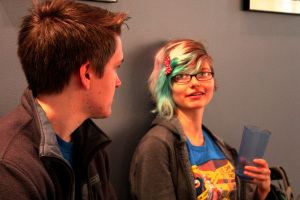 Choosing the right school is one of the most difficult parts of the college admissions process. Deciding at age 17 or 18 where to spend the next four years is daunting, and it's no surprise that about a third of students decide that the school they chose isn't the right fit for them.
This leads students to seek out other places that are better suited for them, and for 29 students this year, Lawrence was that place. Lawrence's admissions play a huge part in making the transition process for these new students as painless as possible, both before they are admitted and once they arrive on campus.
Chuck Erickson, associate director of admissions and the coordinator of transfer admissions, further explained Lawrence's philosophy surrounding transfer students, stating that Lawrence is "looking for students who are academically driven, who are involved, who are going to be additions to our community…We're looking for 'the fit'…we want us to fit them and them to fit us."
And once they find transfers that they think would be right for Lawrence, the process is just getting started. Before students arrive on campus, they are advised on how their prior academic experiences will transfer over, and once they arrive in the fall, the administration tries to make the social transition as easy as possible. This starts with Welcome Week.
"Transfer students have already had [freshman orientation] at their previous college," Erickson explained, "so instead of having them sit through the exact same stuff, we have specific transfer sessions with staff on this campus who have been assigned to work with the transfer community." They also try to house transfers with one another or with upper classmen to foster this sense of inclusion into the Lawrence community.
According to Erickson, one of the most common challenges that transfers face is switching to the faster paced trimester system, as well as the need to take Freshman Studies.
Erickson explained that the reasoning behind this is that "[while] many other colleges offer a freshman seminar, we've found that it is not as rigorous as our Freshman Studies, or that it does not cover as much as our two terms. And part of it is Lawrence history. Every student who has started here as a freshman in the last four years has had freshman studies and as we all know Plato is referenced in class after class, and if those transfer students have never experienced freshman studies they're missing a little piece of Lawrence. Almost every transfer student has to take at least one term."
While this could be viewed as an academic setback, this year's class of transfers seems to be embracing it. Sophomore Keanan Wilson said, "being in Freshman Studies again is interesting. I like how the classes mostly revolve around discussion and debate… Everyone likes to be involved in my class so it's pretty lively." Sophomore Otter Pinske was also pleasantly surprised by "How diverse the material is, as well as the faculty teaching it."
Admissions also focuses on the fear students have that "everyone is going to know that they are a transfer student and that they are different or unusual, or kind of entering this community that has already been formed."
But all of their attempts to have transfers meet one another and the wider community seem to be dispelling this anxiety. Pinske was "surprised by how open and accepting most people are here. Also by how many cool skills and talents my peers have. I like the welcoming environment at Lawrence."
Wilson agreed, saying that "So far, everyone I've met has been super friendly and chill, and I definitely dig the social atmosphere here. I joined the Ultimate team…and they introduced me to ORC which has a lot of awesome opportunities."
Hope Basil, a sophomore transfer, said that she appreciated more broadly "how supportive the administration and admissions team is for making the transition to Lawrence extremely smooth, and last year how great they were with finalizing everything for me to come here."
While Erickson said there was no common theme in why students decide to transfer to Lawrence, he said that they all "have a passion for Lawrence and what Lawrence offers."
Admissions is hoping to make the transfer process even more inclusive, paying special attention to students currently attending two year colleges in the Fox Valley as part of the UW system.
"I will be on their campuses two days out of the month helping them figure out their curriculum, helping them with the transition. There will be special programs where they can come visit campus as a group, meet with faculty advisers, and start figuring out their majors and getting them transitioned right into Lawrence."
Listening to past transfers is also key in the administrations attempts to make transferring a positive process. "We're trying to fix a lot of the problems that previous transfer students have brought up." Based on the thoughts of a few of this year's transfer students, Admissions' careful work is paying off.