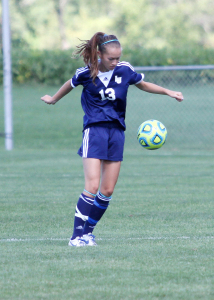 The Lawrence University Women's Soccer team spent a weekend on the road and emerged with a Midwest Conference (MWC) win and a non-conference loss. This split brought the Vikings' record to 4-7-2 (2-1-2 MWC).
On Saturday, Oct. 11, the Lawrence women traveled to Illinois to take on Monmouth College, whose 3-10 (2-4 MWC) record places them ninth in the Midwest Conference, three ranks below Lawrence's sixth.
The first half saw no scoring, though the Scots had a 4-1 shot advantage. "We had some trouble at the beginning because Monmouth has a really fast player who almost scored a few times," junior Perrin Tourangeau said. "Dani [Glass] played really well, though. She did a good job of stopping them."
The Vikings rallied and made some progress in the second half, though were still outshot 7-4. After battling hard most of the scoreless game, freshman Ryan Berkley found the net in an unassisted goal with ten minutes remaining. Senior goalkeeper Dani Glass made six saves to pick up the 1-0 shutout.
"Kirstin [Edwards] couldn't make it to the Monmouth game because she was presenting on her big summer research project," Tourangeau said, highlighting the challenge of a Lawrence student-athlete's constant balancing act. "She's really our key defender, the backbone of our defense, so it was a little tricky for us to figure out how to adjust."
On Sunday, Oct. 12, the Vikings moved on to face UW-Platteville on the road. Platteville's (7-6, 1-3 WIAC) record places them near the bottom of their more competitive conference. The Pioneers regularly compete with larger state schools, and Lawrence made the most of the opportunity to compete against a team of a different level.
In the first half, Platteville soundly outshot the Vikings, firing 13 attempts to Lawrence's two. One of those shots found its way into the Lawrence goal at 11:51, starting the scoring at 1-0 in the Pioneers' favor.
The Vikings kicked it into gear for the second half, narrowing the shot gap to 9-12. Unfortunately, none of Lawrence's attempts resulted in a goal, and Platteville put one more on the board 15 minutes into the second half, securing the shutout with a final score of 2-0. Glass made 14 total saves to Platteville's three.
"We weren't completely outmatched," Tourangeau said of the Vikings' performance in Platteville. "It was our fifth game that week so we were definitely feeling that and it did affect our play. We still managed to pressure a lot and had some good shots. It was a good game for us to practice."
The Lawrence women have a number of important conference games coming up. On Saturday, Oct. 18, the Vikings will travel to Grinnell College (8-6, 4-2 MWC) and on Sunday, Oct. 19, will continue to Cornell College (7-5-1, 3-3 MWC). Wednesday, Oct. 22, brings Lawrence to second-ranked Ripon College (8-4, 4-2 MWC) to round out the week's road competitions.