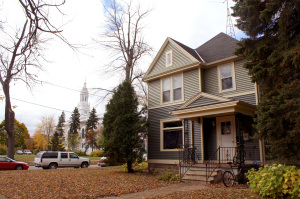 Starting in 2016, six of Lawrence's group houses will no longer be available as student housing. To reconcile this loss, Lawrence is currently developing plans to add additional space, and part of these plans will be a conversion of the former Lucinda's dining hall into living space.
The six Lawrence group houses that will no longer be available next year, include 122, 128, 203, 217, and 221 North Union street (currently Co-op House, GLOW House, Artistic Expression House, Global Health House, and Phi Mu Alpha Sinfonia, respectively) and 739 East Alton Street (Greenfire House).
"The Appleton Fire Department told us the houses are zoned for single family use, and we can't use them as we have been using them…they've allowed us to continue [using them for student housing] until 2016, allowing us to formulate a plan for how we're going to make up for those beds," Associate Dean of Students for Campus Life Amy Uecke said.
In order to accommodate that portion of the student body who will no longer be able to live in these houses, Lawrence plans to open additional space in Colman hall. The project will repurpose the Lucinda area in Coleman to be used for rooms.
Uecke explained "We've been very mindful of trying to get a plan together for creating spaces, not necessarily exactly like a small house… but we've been working with architects to design a plan for re-purposing that (Lucinda area) space and creating opportunities to make up for the beds and the kind of environment that students are experiencing in small group housing."
"They just can't be used for overnight housing, like you would in a home situation." Uecke continued, explaining that the houses being unfit for living standards does not necessarily mean they would have to be demolished. "The facility services staff will be going through and determining what [the houses] can be used for…There have been no final decisions made yet about what will happen to those houses, how they would be used, if they would be used." stated Uecke, emphasizing Lawrence's interest in using the houses for other purposes.
This is not the first time these houses have been re-purposed. Despite Lawrence's near century-long ownership of several of the Union street houses, most of them were only converted to accommodate students in 1988 due to a shortage of residence hall rooms. They had primarily been used to house families of professors or as rental units in the earlier 1900's. Co-op house, built in 1901 and purchased by Lawrence in 1928, was originally used to house members of the Phi Tau fraternity. Ted and Zoe Cloak occupied the house during the 1950s, where they started the still-active Attic Theatre Company.
While many of these houses have a similarly rich history, not all of them have survived the test of time. In late 1997, Carlyle-Schmidt house, located at 127 North Union street, was torn down after debate with the community over interest in preserving the house, even relocating it. After several assessments, Lawrence determined that the reconstruction necessary was too costly, and 127 North Union street is now the grassy lawn adjacent to the chapel parking lot.
Senior Eli Massey, who has lived in Lawrence group houses since his sophomore year, shared his view of the importance of the environment house living offers. "The intimacy of sharing a small space with a group of people, growing with one another, sharing in one another's failures and successes has been a crucial piece in my development at Lawrence. It would be a severe mistake to eliminate themed group housing from Lawrence. Many of my closest friends are people I would not have met without the themed houses."
While she was unsure of the future Lucinda housing's ability to replicate group housing at Lawrence, Uecke stated it would "allow for independent group living that you would get whether you were in a theme or formal group house, and there's really some fantastic ideas coming out of the committee that's working towards housing those students."
"That committee is working towards getting some base plans down and sharing it with the rest of the community…Soon we'll be reaching out to the rest of campus and asking for student opinions and feedback," concluded Uecke.