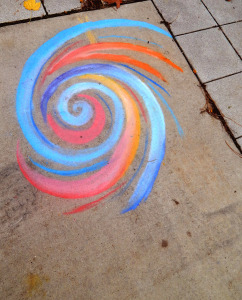 By Nalee Praseutsack
If you have seen chalk art around campus, chances are it was the work of freshman Madeira Seaman. Since arriving on campus, she has begun leaving her mark in chalk and plans to continue throughout the year.
Seaman started doing chalk art the summer of 2014 before bringing her work to the Lawrence Campus. Her common spots for art have been outside of Kohler, Warch Campus Center and near the Wriston Art Center.
She originally started doing chalk art on campus to meet people, but it has grown into a habit. "No one's stopped me yet," Seaman said when asked why she does chalk art.
Her frequency of art has led to Seaman signing her work as "BD." BD is an alias standing for "Big Dick," partially referencing her father Richard "Dick" Seaman.
Seaman cites one of her major inspirations as "the ocean." As a lover of marine biology, she has used jellyfish and whales as subjects for her works. She loves the ocean so much that she has a jellyfish tattoo—which she designed herself.
In the past, Seaman has also taken requests that have included circle Gallifreyan (from the popular BBC show "Doctor Who") for Channing Tucker and "a stupid looking lizard" for Ameer Ross, both freshmen. Seaman welcomes suggestions and encourages people to interact with her while she works. Seaman said she wants people to "talk with [her]" and invites people to "be better than [her] and "come draw with [her]."
The method Seaman utilizes involves using sidewalk chalk and chalk pastels to draw, then using a paintbrush and water to paint over the chalk for a smooth finish. Through layering chalk and using the water-loaded paintbrush, Seaman enjoys "playing with color on a very, very large canvas." Seeing "how the colors blend" is an appeal of the medium for her.
When asked about the responses she received, Seaman indicated she was happy with the amount of positive feedback. "No one has criticized it at all," she said. Remarking on the niche art genre she has laid claim to, Seaman also said, "I've got my chalk and people like it."
Given that the weather is getting wetter and colder, Seaman intends to "move the chalk from the ground to the people." Chalk body art is something that Seaman experimented with over the summer on herself and others. By using a similar water and chalk pastel technique, she can draw directly onto skin.
Chalk body art, according to Seaman, is like "an ultra temporary tattoo that's super unique." The chalk pastels retain vibrant color on skin and "after it has dried, it'll stay on," so transfer of chalk dust shouldn't be much of a concern. The chalk can later be removed with soap and water.
Seaman hopes to possibly charge commissions for the chalk body art. With a price range of 25 cents to five dollars depending on size, she plans to use the money to "stop being a crazy poor college kid and buy more chalk."
Seaman also mentioned the idea of starting a "chalk on the walk"-type event to get more people involved. Inspired by a "Chalk in the Plaza" event in her home town of Eureka, Calif., Seaman considered the idea of inviting all campus groups to use chalk to "decorate their square [of sidewalk] and advertise for their club." This idea is tentative and no plans have been made to organize such an event yet.