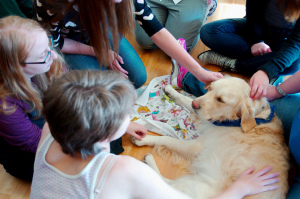 By Rachel Taber
Last Saturday, Oct. 17, the Lawrence chapter of National Alliance on Mental Illness (NAMI) brought certified therapy dogs to campus in order to de-stress students before mid-terms. Students came, relaxed and interacted with the dogs to get a break from studying, while the dog handlers told their stories about their dogs.
NAMI is an organization working to make Lawrence a more welcoming place for everyone, especially those affected by mental illness. Senior Elise Massicotte, who works as a liaison between NAMI Fox Valley and NAMI LU, said "NAMI's job is to try and reduce the stigma against mental illness on campus. An astounding amount of Lawrence students struggle with mental illness every day, and it's never talked about and we want to stop that."
The idea for dog therapy came to NAMI last year. "Our president got started wanting to help the students who miss their dogs, and help reduce stress all around on campus by bringing pets from the community into Lawrence" explained Massicotte. "We can hang out with dogs and get some stress relief for mid-terms."
Due to the popularity of the event, NAMI is likely to host it again. "I think we're going to maybe try and do this once a term, or at least next year as well and make it an annual thing since it's been so successful today," said Massicotte.
Steve, one of the dog owners, has had his dog Dusty for eight years, and Dusty has been a therapy dog for eight months. "Dog therapy is where you bring dogs to a situation like this where people are stressed out maybe or just need to get away from what they're doing. That's the therapy for me is petting my dog," Steve said. "Dusty loved it because he just sits there and gets petted. I don't think he's ever gotten petted that much before."
A therapy dog needs to be comfortable around people, and this is why not all dogs can be therapy dogs.
"Just being calm around the dog helps keep him calm. Plus being eight years old, he's at the age now where he's getting a little mellow," Steve explained.
Students seem to have found the event very calming.
"I'm just going to relax and pet some dogs," freshman Ben Peterson said. Junior Albert Marshall explained he felt "about twenty times less stressed" for his midterms after meeting the dogs. Freshman Kate Morton said "They just make me happy because I haven't seen my dog in so long."
Suzanne Hones, a sophomore explained, "I'm really excited about the dogs, though I wish there were more puppies. But I'm very pleased that they're here and I think this is a good idea." Marshall added, "I love them. It's been so long since I've been around a dog; they're just so great that they play with you. It's awesome."