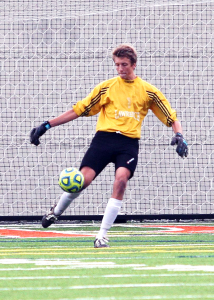 Oct. 18 and 19 were tough game days for the Men's Soccer team as they took on two Midwest Conference (MWC) competitors, Grinnell and Cornell Colleges. Play began on Saturday in Grinnell at 11 a.m. The teams were neck-and-neck for most of the first half. senior captain Cameron Pieper led the team with two shots on goal. However, the ball failed to reach the back of the net.
At 42 minutes of play, a foul was committed in the box by the Vikings, leaving Grinnell with a penalty kick. Benjamin Warner was able to score for his team off of the PK, giving Grinnell the 1-0 lead at the end of the first half.
The second half continued with most of the same back-and-forth play. Senior Stephen Salansky received a yellow card at 59 minutes for a dangerous play in the fight to get the game tied up. Sophomore Joe Krivit played an outstanding game for the Vikings, stopping 11 shots on goal, one upping Grinnell goalie Isaiah Tyree, who had four saves for the game.
Despite their best efforts, the Vikings failed to come back and the game ended with a score of 1-0 for Grinnell, marking the eighth one-goal loss for LU.
The team headed to Mount Vernon, Iowa the next day to play their second match of the weekend against the Rams of Cornell College. This time, it was senior Santiago Alvarez who led the team with three shots on goal along with fellow senior Joe Cullen and sophomore Michael Deremo, who contributed two shots apiece.
Ultimately, Lawrence had a 22-6 edge in shots over Cornell, but neither team could find the back of the net. Krivit added, "We were able to create some good chances in front of the goal. In total, we had 22 shots, which is usually great. But their keeper had a spectacular game and we were unlucky to not be able to put any of our chances away."
The game ended up going into double-overtime, adding 20 additional minutes to the 90 already played. Cornell's goalkeeper was very busy, having to make 13 saves for the Rams, while Krivit made four for the Vikings.
At the end of 110 minutes of play, the score remained 0-0. This left the Vikings with a 1-6-2 record in the MWC, ranking them ninth out of 11 teams in MWC Rankings.
While moving on to the conference tournament is not in the future of the Men's Soccer team for this year, they still hope to finish off their season on a strong note. Their last conference game will be a home match this Saturday, Oct. 25 against Beloit at 12:30 p.m.