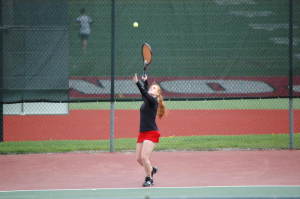 By Pablo Morales
This week I chatted with Tess Vogel, a senior piano major from Connecticut. Last Saturday at the Midwest Conference Tournament, Tess reached the semifinals with her doubles partner Melissa Heeren at No. 3 doubles. The next day, she again reached the semifinals playing No. 5 singles to round out her Lawrence tennis career.
Pablo Morales: Tell me a little bit about the matches this weekend. It was the Midwest Conference Tournament, right?
Tess Vogel: It was super exciting; it was a lot of fun. We all had a lot of chances to play a bunch of different matches, which was cool. It was tiring, but fun. My doubles partner Melissa Heeren and I were seeded 3rd in the conference, so we were lucky and had a bye the first round. Then, we ended up playing a few matches and lost to a tough team in the semifinals. It was close, though! And that team ended up winning the whole thing, so that made us feel a little better.
PM: The courts just got redone. How has it been playing on them this season?
TV: Yes! They are absolutely beautiful. It's so great, the concept of the courts being redone. There had been some big cracks in them. It's nice to know that there are donors out there and all that support for the tennis teams here. To be the first people to play on them, break them in a little bit is pretty cool. I think they're also working on getting lights out there, too.
PM: How long have you been playing tennis?
TV: I started a little bit before high school. I played a little when I was younger, and then picked it up before high school again, then played on my high school team.
PM: How is it juggling tennis and the con?
TV: It's tough, in high school I always felt like I was caught in the middle between the two. Professor and coach never really talked to one another. It's been pretty difficult here, too, like freshman year I couldn't go to conference because of a Viking Chorale concert I was in, but this year Coach Francour has been so understanding. I think since tennis is an individual sport, you can sort of meet separately and hit. It's not like your whole team is depending on you to be at a practice. In that respect, it's been a little easier.
PM: It sounds like Coach Francour has really become a valuable asset to the team.
TV: Yeah, the way he structures practices is great. We run organized drills rather than just hitting around. We do other stuff to help keep us in shape like footwork stuff, ladders, jump rope. We get balls fed to us so we can work on specific strokes. There's a fair amount of live play, and I think all of that has helped us improve. It shows in our results.
PM: Who do you look up to on the professional tennis circuit?
TV: I really like Roger Federer. For a while, it was Novak Djokovic, which was tough since I don't think he was necessarily well liked by a lot of people at first. I think that's changing, though. His demeanor on the court has changed, and his fan base is definitely growing as a result. Still, though, I love Roger Federer.
PM: Do you try to emulate that Federer backhand?
TV: If only! He's nuts. I really like [Caroline] Wozniacki as far as female players go. She had a good year and it's fun to watch her play. They do amazing things. I don't know how they do what they do. Their endurance is through the roof.
PM: How is the team getting along overall?
TV: Great, we got to do a lot of bonding during preseason. We went up to Björklunden, which was fun. They have some courts that are nice to play on. We have a lot of team traditions—tie-dye parties, door decks. It's all a lot of fun.