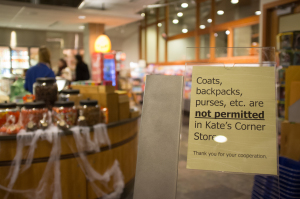 Bon Appétit employee of two years Maria Salinas was on duty when the student was caught.
Salinas was working a busy shift that Tuesday. After the rush died down, she went to the back to restock some items from the cooler.
"[When I got back] I noticed someone's skateboard leaning against the counter," explained Salinas, "I thought that someone had left it but then I heard rustling in back next to the chip and pretzel stand."
Salinas then saw a student hunched over with his bag unzipped. He had a container of Asian noodles in his hand. When he came around, the Asian noodles were replaced with a can of Campbell's soup. The Asian noodles, however, were not replaced on the stand.
When he got to the register, Salinas said "I then asked him if all he wanted to buy was the Campbell's soup. He confirmed and then I asked to see his backpack."
In his bag, under some moccasins, were the aforementioned Asian noodles, three more Asian noodle containers, a box of Swiss Rolls and two boxes of mini donuts.
Junior Jenna Kuchar was working at the Warch Campus Center Information Desk when Maria came up with the student.
"I called security," begins Kuchar, "I think it was a stern response but I totally understand because I have heard of things being stolen [from the Corner Store] before."
Kuchar comments on Maria Salinas' ordeal, "[Bon Appétit] employees are here super late, work tough hours and now they have to put up with people stealing, who don't realize the repercussions of their actions."
Julie Severance, Bon Appétit's General Manager, admits that this is a rare occurrence—that we know of.
"We have nothing to do with the situation after we report it to security," continues Severance.
In hopes of eliminating crime in the corner store, management implemented a new policy that requires customers to remove coats and backpacks prior to entering the store.
"Many students [show] anger or disbelief at the situation in general, not the policy", said Severance.
Student opinion on the new policy varies. Freshman Sabrina Conteh questions the rule's effectiveness. Taking herself out of the Lawrence Bubble she said, "I don't think that there's anything they can do about it. It is [also] so inconvenient—and I think taking off our coats is very unnecessary."
Kuchar disagrees: "[The Corner Store] is a great feature so if the school is losing money because people are stealing then there should be more rules enforced."
Junior Megan Occhino argues that while the policy is annoying, "[Bon Appétit] is handling the issue in the best way possible."
"It just is unfortunate that [innocent costumers] have to be on the receiving end of this new action," continued Occhino.
Kuchar does recognize the drawbacks of this new system. "There are a lot of trustworthy people who have to suffer because of one silly dude, so now we have to deal with these middle school rules," laments Kuchar.
Ultimately, students hope that as the year continues the previous corner store privileges will return.
"We are college students and this place is all about trust with the Honor Code and the implied social code," concludes Kuchar, "We should be trusted to act accordingly."