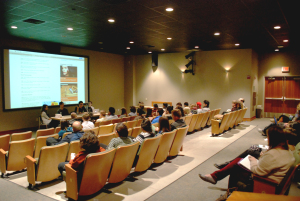 By Megan Corum
On Monday Oct. 20, a panel, US Imperialism and the Creation of ISIS: A Syrian Perspective, discussed the current situation in Syria, including the political conflicts Syria faces and the impact of American intervention on the Middle East on Monday, Oct. 20.
The panel was organized by the group, Students for Justice in Palestine (SJP). Panelists included SJP co-president junior Razan Anabtawi, vice-president senior Eli Massey, member freshman Mahmoud Shaar and co-president sophomore Tammara Nassar.
Even though the group focuses primarily on Palestine, they also work to "promote the cause of justice," Anabtawi said.
SJP organized the panel with the goal of "debunking some of the stereotypes of the conflict" in Syria, Shaar said. The media portrayal "doesn't really match what's happening on the ground," he said.
Syria gained its independence from the Ottomans in 1918 and then again from the French in 1946. In 1970, Hafez al-Assad overthrew the current president and took power. Assad's family continued to rule Syria. "It's not a democracy, it's not a kingdom, but power was handed over to his son," Shaar said.
During the Arab Spring in 2011, Syria was one of many countries to take action. "It's not like a civil war where there are two parts but it is people trying to get rid of their oppressor," Shaar said. Fighting continued to be primarily between Assad's regime and Syrian rebels until the arrival of ISIS in 2013.
"ISIS came into the country," Shaar said. "ISIS does not represent the Syrian people; it does not represent the culture of any of the people who live there."
"It's more than just a terrorist militant group," Anabtawi said. "It's running itself as a social political group."
They highlighted the "portrayal of ISIS as an Islamic extremist organization in American mainstream media," Eli said. However, "the leaders of ISIS are secular," Shaar said. Their policies are "not really Islamic ideology," he said.
The media's focus on ISIS ignores the fact that the death toll in the western part of Syria was "not created by ISIS," Shaar said. "There are still rebels who are fighting the regime but they're being crushed between ISIS and the regime."
"This is not ISIS killing people; this is the regime killing people," Nassar said. "All these people, every single one, with a name and a face."
American intervention in the Middle East takes the form of progressive imperialism. In Iraq, America "took all the oil, ran out of money and left," Nassar said.
"If we look back historically, Syria did not need western intervention," Shaar said. He added that, from a Syrian perspective, "America comes in and bombs the country; America comes in and bombs civilians."
Shaar, who is originally from Syria, said "things got really bad in my city so I couldn't go back to Syria" and ended up staying in Turkey for some time. "Syria is my home, of course, but I can't go back to Syria."
Freshman Wouter Van Der Hoeven and freshman Sabrina Conteh were some of the lecture attendees. "It was very important because we're so engulfed in the U.S. perspective," Sabrina said. "It was great to get an understanding of ISIS," Wouter added.