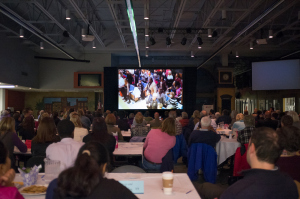 By Megan Corum
On Tuesday evening, Oct. 28, 2014, students of both Lawrence University and Fox Valley Technical College (FVTC) joined community members at the FVTC commons to screen a series of short films highlighting issues facing the Fox Valley as part of the Civic Life Project.
The films, which were designed to call attention to topics their viewers might not frequently consider, were made by Lawrence students in the school's Civic Life Project course, which took place last Winter Term. This year's lineup included five different movies.
Lawrence University President Mark Burstein and
FVTC President Susan May contributed opening remarks and Catherine Tatge '72, who taught the course, gave the closing. Tatge co-founded the Civic Life Project with her husband Dominique Lasseur, and has mentored students at Lawrence in the project since she brought it to Appleton in 2012.
After each film was screened, there was a ten-minute discussion period, where Lawrence and FVTC students facilitated conversations between the community members in attendance. By including this discussion period, Tatge hopes to inspire conversations that continue in the community long after the event.
The first film, called "Before Bars," focused on how more minorities face imprisonment and was created by Lawrence students Logan Beskoon and Ariela Rosa, as well as Devin Burri, a 2014 Lawrence graduate. Though conversations about minority imprisonment are taking place on a national scale, Rosa suggested that local conversations are also particularly important in Wisconsin.
"Our state is actually number one in its imprisonment of black males in the entire nation," Rosa explained. "We initially ran into some trouble finding people to speak to. We took this difficulty as a sign that Appleton and the Fox Cities did not have as big of a racial profiling problem as the rest of the state, so it was a blessing as much as it was a curse."
Rosa was initially inspired when she took the Civic Life Project last winter and a speaker came in to present.
"I was shocked to learn that 1 in 8 black men between the ages of 18 and 64 are imprisoned in Wisconsin," she said. "So I decided to work with Logan and Devin in figuring out the factors that play into such a high statistic, and that's how our film was born."
Another film, by Jaime Gonzalez, Cynthia Tobias and Cheyenne Van Dyke, was "Labeled for Life," which featured the struggles sex offenders face when trying to reintegrate.
A.J. Williams, along with Kelsi Brunn-Bryant, a 2014 Lawrence graduate, and Brienne Colston, concentrated on the achievement gap in Appleton schools with "If you can't reach 'em, you can't teach 'em."
JaNelle Barnes and Tierra Masupha also examined schools by looking at the impact of domestic violence on student academic performance in "Domestic Violence and Schools."
In "Living with Dementia," Michael Hubbard and Becky Dykes, a 2014 Lawrence graduate, focused on the challenges of both caregivers and those with dementia.
As she concluded, Tatge reminded the audience of what Parker J. Palmer terms the "tragic gap" between reality and possibility, suggesting audiences should not be mired in the way things are now or merely optimistic of the future but working to create that future.