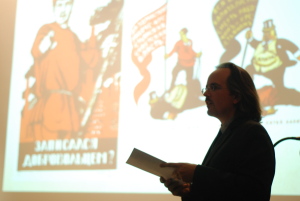 By Ruby Dickson
For its second event of the annual Povolny Lecture Series in International Studies–themed "Nationalism, Succession, and Intervention" this year—the Government department invited Professor David Brandenberger from the University of Richmond to give a lecture titled "Joseph Stalin and the Accidental Creation of Russian National Identity," on Tuesday, Oct. 28.
Associate Professor of History, Peter Blitstein, introduced the speaker. He informed the audience that Brandenberger, a graduate of both Macalester College and Harvard University, is a renowned expert in the field of Russian History and Russian policy studies, with a particular focus on archival research.
As a child of Lawrence faculty, Bradenberger grew up in Appleton and took Lawrence courses in Russian in his youth. Brandenberger currently serves as an Associate Professor of History and International Studies at the University of Richmond in Virginia.
Professor of Government and Edwin & Ruth West Professor of Economics and Social Science Claudena Skran, who is on the team responsible for organizing the Povolny Series, said that the organizers brought in Brandenberger in order to give the Lawrence community a historical perspective on Russian culture and identity, so that they can better understand the current crisis in the Ukraine.
Brandenberger's lecture covered the propaganda blitzes of the Soviet Communist Party from 1917 until the death of Stalin. He also discussed how by 1950, the successive angles pushed by the ubiquitous propaganda of the time had crystallized in the minds of the Russian people and created a unique perception of identity.
He described how "they can communicate about what it's like to be a Russian for the first time in Russian history." Brandenberger's lecture emphasized that the cultural elements of propaganda were instrumental in forming the way that modern Russians consider themselves. "It is mass culture which is going to be very decisive in helping people think about their society," Brandenberger said.
Brandenberger also stressed that this conceptualization of Russia and a Russian national identity had never existed for the majority of the region's population prior to the Russian Civil War, and that it only came into being due to a mass rejection of the Marxist-Leninist ideals of class struggle and solidarity.
Brandenberger's title and thesis asserted that the creation of this national identity was due to a miscalibration of a political ploy to mobilize Soviet support during the late 1930s. Soviet media experts turned to ancient cultural and historic heroes in order to largely fabricate a Russian social and historical narrative, and mass audiences loved it.
"It's pragmatic, it's populist, and I would argue that this was a bid to win social support at any cost," Brandenberger said.
The event had a relatively large turnout, with many members of the Appleton community intermixed with Lawrence students and faculty. Skran called the lecture "interesting and informative."
After the lecture, Brandenberger spent much of his visit to campus speaking with students and faculty members about his field of study, as well as his personal history at Lawrence. His visit allowed the Lawrence community to learn from an expert about what he described as the "rich cultural tapestry of Russian history."