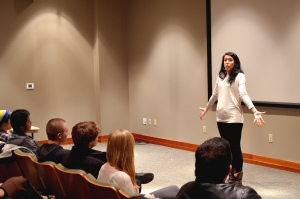 By Emma Arnesen
Last Thursday, Oct. 30, spoken word artist Katie Wirsing shared her personal experiences of identity, relationships and the trials and tribulations of love through a collection of poems. As a member of the 2006 National Poetry Slam Championship team and thirteenth-ranked poet at the Women of The World Poetry Slam, Katie is not afraid to express the challenges she has faced in self-identification and the relationships she has gained and lost along the way.
Though her poems are focused around serious issues—gender, love, sexuality and spirituality—Katie presented herself in a relatable way to the audience by providing humor and interest in her colloquial and relaxed presentation. The first thing she said to the audience was that she hoped her poems could be more like a "hangout conversation."
Unlike traditional poets who read aloud on stage to a distant audience, Katie's performance was interactive and she centered her poems on the type of listeners she had. The first question Katie asked was, "Who here has or ever had a grandmother?" Though it was a funny question to ask—and everyone raised their hands—Katie's method of engaging the audience worked. In relating herself this way, her first poem about her grandmother was more impactful and evoked more emotion in the audience.
Katie also informed the audience that poetry is "not always obvious" when it is over. Unlike traditional rhyming schemes and an apparent pattern to the poem, Katie's poems each had different arrangements in terms of rhythm and beat. She used abstract metaphors and analogies to create humor and relate everyday life to specific emotions and feelings she expressed during her poetry. She was also not shy to use idiomatic language and be crude in the way she spoke. Although it was shocking at first to hear a professional speaker use certain words, her sense of style made her poetry even more unique and relatable, especially for the many young adult audiences she performs for.
While most of her poetry was funny and heartwarming, the topics she discussed were deep and personal. One of the most personal experiences Katie shared with the audience was her father's battle with cancer. Though a very weighty topic, she still employed humor and sarcasm to express her love for her dad. The particular poem she read provided a sense of sympathy and heartfelt feelings about families and relationships.
At only 28 years old, Katie Wirsing has already traveled all over the country sharing her life experiences and speaking on these issues important to her. Being able to captivate her audiences through her telling of relatable experiences and distinctive humor, Katie has reached out to many young adults. Her love for meeting new people and sharing her stories is evident in the way she presents her poetry and the way she relates to others who have faced similar challenges.
Katie shared that she does not quite know what she writes about, when people ask her. She explained that it is a strange question because she just writes what she is familiar and good at, which is life.