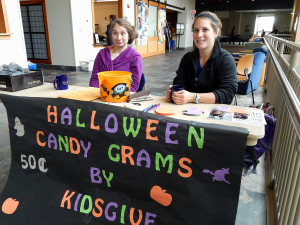 By Anh Ta
Halloween at Lawrence was not only spooky, fun and entertaining, but also sugary sweet with the help of Candy Grams. Presented by KidsGive, Candy Grams allowed Lawrentians to send treats to their friends' mailboxes for just 50 cents each. By sending a candy gram, students were not only sending the love to their fellow Lawrentians, but also to the numerous Sierra Leonian orphans in the midst of the ongoing Ebola epidemic.
Candy Grams are the first fundraising event of the year for KidsGive, and although the proceeds they earned were not huge, a less tangible goal was achieved. When talking about Candy Grams, senior Liz Barthels, the Vice Chairperson of KidsGive at Lawrence, was proud. "We wanted to get our name out there, to let people know what we are doing and why we are doing it," Barthels said.
It is also the first of many KidsGive fundraising events for Sierra Leonian Ebola orphans to come this year, as a part of a bigger effort to mitigate the social impact of the epidemic, and in continuation with their seven-year dedication to education in Sierra Leone.
Started by Professor of Government Claudena Skran in 2006, KidsGive is a scholarship program for children in Sierra Leone that has reached over 500 students in three main partner schools, Conforti School, FAWE School and most recently, St. Mary's High School. It is also a fundraising effort with many partners across the United States, and last year, it became a student club on campus to further aid the fundraising for the scholarships. "We aim to bring better education to children in Sierra Leone. […] Another part of our mission is to educate middle and high school [students] in the United States about Africa so that they can make better informed decisions both about giving and policy," Professor Skran shared.
Like any other success story, KidsGive is the result of the collective effort of Professor Skran and generations of Lawrentians who have worked hard to build everything up from scratch.
"My inspiration for KidsGive is from one of my students who went to Sierra Leone with me in 2007," she said. "She was very touched by all the children she met there, many of whom are not cared for by their parents. They are orphans or the kids living on the streets. She had the idea that we really needed to do something more. In 2009, it was really furthered by some other students I had at the time."
Having garnered many partners and donors across the world and with many years of experience behind them, KidsGive has big plans to expand their impact in the United States, with school visits in Twin Cities, Minn. this December, and is considering new beneficiaries in Jamaica. At Lawrence, KidsGive is hoping for more volunteers, more volunteer trips to Sierra Leone and even bigger fundraising events, such as college-wide fundraising competition between residence halls, sport teams and studios.
In their own small steps, KidsGive hopes to bring a better education to Sierra Leone, one kid at a time, as Barthels shared about her experience. "It's amazing to see how happy they were, that the things that we do make a big difference there."