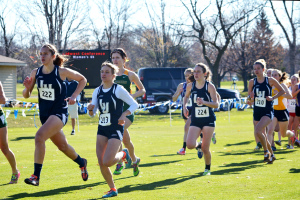 Lawrence University hosted the Midwest Conference Cross Country Championships at the Reid Municipal Golf Course this past weekend and both the men's and women's teams were looking for a strong showing in their final home meet. The Vikings combined to have five members receive all-conference honors ,which is achieved by finishing in the top 20 runners.
Junior Cora Williams led the women's team by taking eleventh place in the 6,000 meter course race. She finished the course with a time of 23:11. Freshman Erin Schrobilgen followed four seconds later to take twelfth place. Junior Clare Bruning also claimed an all conference spot by claiming nineteenth place, finishing in 23:39.
Other scorers for Lawrence included Amy Hutchings who finished twenty-fifth and Hannah Kinzer who finished twenty-ninth. Overall, the women's team tallied 96 points which earned them third place in conference. Grinnell took first with 57 points and Kyra Kimber from Monmouth College was the individual champion by finishing in 21:50.
Max Edwards was the top performer for the men's team. He claimed tenth place and finished the 8,000 meter course in 26:21. Kyle Dockery finished twelfth with a time of 26:25 and also received all conference honors. Finishing the scoring for the men's team were Cam Davies who took twenty-second, Jonah Laursen who finished twenty-sixth, and Teddy Kortenhof who claimed forty-seventh.
The men's team finished with 117 points, which gave them fourth place in conference. Grinnell also won the men's side with a total of 54 points and Isaac Jordan from Carroll University was the individual champion by finishing the course in 25:40.
"Our team was hoping for more at the championships, but the diligence that everyone put into their performances was inspiring," said Cora Williams. "we learned that in order to win the conference title in a field as competitive as the MWC, we need to throw off all limitations and leave everything on the course."
Commenting on the race being held in Appleton, Williams said, "The volume throughout the 3.7 mile or 5 mile course was unprecedented and knowing that all of those people were cheering for the Vikings was absolutely thrilling."
The cross country team's next event will be the Division III Midwest Regional meet on November 15 which will be hosted by UW-Oshkosh in Winneconne, Wis.
"Our placings for both men and women at the MWC championships don't accurately represent our true potential as a team because we are stronger than that. We still have huge goals for the Midwest Regional," commented Williams. "This race will be our chance to really unleash our potential and run some speedy new times across the board."