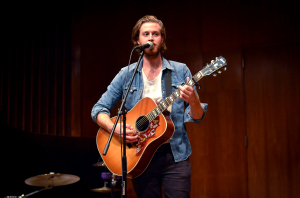 By Emma Arnesen
Singer, songwriter and guitarist Brett Newski, and his band, visited Lawrence University this past Saturday, Nov. 8 as part of The Folk Catastrophe Tour. Even though the band is still relatively new and upcoming, the audience in Harper Hall seemed to enjoy the blend of indie-folk rock music and humorous interludes from Brett Newski and his band members.
American alt-country singer songwriter Carter Hulsey opened for Brett Newski's band, performing a couple of his own original works on his acoustic guitar. His style was relaxing and perfect for the small Lawrence audience. In between songs Hulsey would casually call to Newski who was standing in the back, and invite him to join him onstage.
Newski accompanied Hulsey for his last two songs before his band performed. It was amusing to see the two singers interacting with each other and working together to keep with the same beat. Newski at first covered his ear so he could find the right pitch to harmonize with Hulsey and to concentrate on his timing and rhythm. There was a sort of informality to their performance, making it more relaxed and laid-back. Newski even stated that it was like playing in a "living room" with everyone comfortably seated and listening.
When Newski and his band performed, the genre changed to high-energy indie-rock. Newski was the lead guitarist and soloist and was joined by a drummer and bassist. One of the funnier songs that the band performed was called "Move to Berlin" which was inspired by Newski's visit to Germany. The lyrics were humorous in that they were a mash up of everything that Newski saw and did in Germany as well as the different cultural difference. For this particular song, Newski added bells to his foot so that he could keep a rhythm while he played guitar. Along with the small panel controlling the microphone settings, it was fun to see Newski juggle the different instruments while also setting the beat for the rest of his band members.
The interactions between the three band members were also entertaining. During the drum solo in one song, Newski walked over and played the guitar right next to his drummer. At the same time, the drummer and bassist exchanged looks and seemed to be having a good time playing for each other while also playing with each other onstage.
The ability for the members to move around onstage while playing their instruments gave more humor to the performance and engaged the audience. It was especially fun to see the three of them exchange funny looks and laugh while performing because it showed how comfortable the band members were with one another and the positive relationship they shared on stage
Overall, the Newski band was very enjoyable and a relaxing way to spend Saturday night. Performing a mixture of indie, folk, and alt-rock, the type of music was different from that of traditional guitar soloists and rock bands. It was fun to see how the music progressed throughout the show, and the fun-loving relationship between the band members. The fact that Newski's band is still relatively new made their lively and entertaining performance that much more impressive.