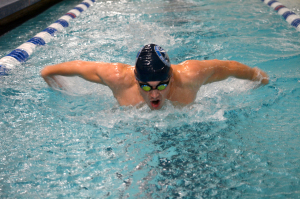 Saturday, Nov. 8 marked the Lawrence University Swim Team's first home meet of the year against Midwest Conference competitor Beloit College.
The women's side had tough competition this week against the Buccaneers. Senior Taylor Winter had a spectacular meet, winning the 1,000-yard freestyle and the 500-yard freestyle for the Vikings.
"We train hard every single day for several hours. Two to three times a day we're swimming, lifting, doing dry-land and even doing yoga. Our main focus is conference so each meet is a great way to compete and prepare for the end of the season," junior Haley Cardinal said.
Thanks to all that hard work, Cardinal also had two victories winning the 200-yard individual medley (IM) and the 100-yard breaststroke. Sophomore Paige Witter had an impressive performance Saturday as well, snagging the top spot in the 200-yard freestyle and the 100-yard butterfly.
Junior Emily Flack and freshman Anna Vogel also placed third and sixth in the 200 freestyle, respectively. Vogel also went on to place fourth in the 500-yard freestyle and helped the 200-yard medley relay team grab fourth place.
"I would say Anna Vogel would be the MVP for the meet—all her swims were awesome," Flack said. Despite the six victories won by Winter, Witter and Cardinal for the women's team, the Vikings fell 157-44 to the Buccaneers.
Despite the loss, Cardinal was happy with the overall team performance. "The 100 Back was extremely competitive and great to watch. We got some really fast freshmen this year so it was great to see us sweep that event and get first through fourth. The 200-freestyle was also very competitive. I always have a personal bias with the 200 IM and the 100 breast, of course. but really every event is always a great race," Cardinal said.
The men's team had a very successful afternoon.
"My favorite race was seeing the men's team win in their first relay of the season. It was also great just to see everyone supporting their teammates on the side of the pool through the whole meet," Witter added
Freshman Travis Charlow had a great first meet for the team winning both the 200-yard freestyle and the 100-yard backstroke. Junior Kaleb Cooperman placed second in the 200-yard freestyle event, finishing just 12 seconds behind Charlow. With this outstanding performance, the men's team was able to top the Buccaneers 104-70.
Ultimately, the Vikings had a great first meet of the season. Cardinal finished, "Everyone had such strong swims, especially Winter, Witter and Charlow, all who won their events. Flo Van Lieshout won the 100 back and Odessa Ceh got the 50 free, but even those who may not have placed first mostly had their best times, so I'm looking forward to the rest of the season."