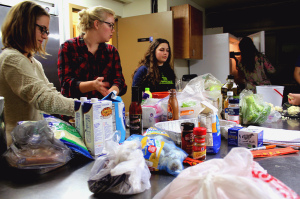 Last Friday, Nov. 7 marked the first Fine Dining and Fancy Dancing event hosted by Sankofa, Cultural Food Club and Swing Dance. Sophomore Deepankar Tripurana took charge as coordinator of the event and hosted the night with clear goals in mind.
"Firstly, I wanted to bring fine dining and a fun atmosphere to Lawrence," Tripurana said.
Sophomore and volunteer Kevin Buckhalton agreed with this mission.
"It is real authentic food that we all prepared," began Buckhalton. "It is just something nice to do for our fellow Lawrentians especially when it is eighth week and everyone is stressed."
Junior and Swing Dance club member Lena Bixby said, "It seemed like a good time for all the theme houses to interact."
However, this event also ties into a more personal goal of Tripurana's.
"I want to serve the faculty of the university. The mark I want to leave [on campus] is in fine dining," Tripurana said.
In preparation for this long-term goal, Tripurana collaborated with the other cooks to create a colorful and diverse menu.
Freshman Hailey Bomar, one of the volunteer chefs at the event, used her own recipe to bake a key lime pie with lemon zest and powdered sugar. This dessert was served alongside stir fried vegetables and empanadas.
"We tried to make food from a variety of different countries," Bomar said. "We hope to get something new started."
Other personal recipes included sophomore Tatiyana Jenkins' and Monique J Rogers' empanadas as well as Tripurana's pan-roasted pork chops.
Even with the careful planning, the event dealt with a few obstacles.
"Since 65 people agreed to come to the event we were short on supplies," Tripurana explained. "However, Beta and Swing House were kind in letting us use table wear and chairs. We are glad that we could reach out to the rest of campus last minute."
Despite the minor setbacks, the food was met with gushing reviews.
Junior Ali Heiring said, "No one ever [hosts events] like this—I wish it could happen every week."