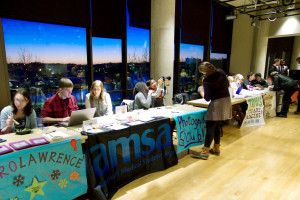 By Ahn Ta
Last Friday night, Jan. 9, Lawrentians started their new school term with the Winter Term Activities Fair. This time around, there was no impossible crowd to squeeze your way through. Nevertheless, I could still feel a very much palpable sense of excitement in the air as I made my way through Esch-Hurvis Room. Most of the clubs were present and students could leisurely roam around.
Many Lawrentians, especially freshmen and new transfer students, greatly appreciate a second Activities Fair. To them, it is a chance to start the year fresh. The much calmer and more relaxed atmosphere allowed many to thoroughly browse and to get to know the groups they were really interested in. This is also something that Nick Paulson '14, Lawrence's Student Organization Coordinator, felt strongly about as he organized the second Activities Fair.
"The first Activities Fair has so much hustle and bustle, because it was the first week the freshmen [were] on campus," said Paulson. "There was so much energy there that could be incredibly overwhelming for people who just got on campus and might not know exactly what they were looking for to just walk in and find 200 groups shouting at you."
More importantly, not all freshmen were aware of all the different activities available on campus. The sheer diversity is overwhelming. As such, many appreciated another chance to learn about student life at Lawrence.
"I think it is nice to see all the clubs in one place, because when you only see the list of the clubs online you don't really know what they do," said Sienna Lim, freshman. "In Fall term, you didn't really know in the first week how busy college was going to be, or how co-curricular activities are going to be too time-consuming or not. But after the first term, you got to know your schedule, and you can make a better choice."
This second fair is not only beneficial to the new students, but also for the clubs as well. Clubs can show off more recent activities and events they have had in Fall Term. For the Panhellenic chapters, this is their chance to draw in more potential members as their Winter Recruitment was coming up very soon. Senior and Greek life member Robin Lieberman shared her thoughts. "We just try to grow as much as we can and get as many members as possible," said Lieberman.
The Winter Term Activities Fair is another great chance for students to get involved and active on campus, especially for those who have not quite found a place for themselves in the previous fair. The excitement at the fair promised an eventful and vibrant campus scene in the months to come.