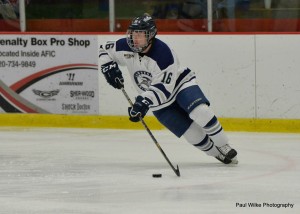 After a tie and a win at the NCHA/MIAC Thanksgiving Showdown, the Lawrence University hockey team (5-9-1, 4-4-0 NCHA) struggled with a winter break losing-streak against several impressive opponents. Continuing the tough battles, the Vikings spent the first weekend of Winter Term on the road, traveling over 500 miles to face two strong Minnesota Intercollegiate Athletic Conference teams. The Vikings hit some rough patches and opened the first weekend of 2015 competition with a pair of nonconference losses.
On Saturday, Jan. 10, the Vikings arrived in Moorhead, MN, to challenge the Concordia College Cobbers (7-5-3). The game started out slow but just over halfway through the first period the Cobbers got on the board with a pair of goals. Lawrence retaliated with a power play goal by junior Matt Moore at 16:39. Freshmen Matt Montemurro and Brad Mueller were credited with assists.
Penalties plagued the Vikings throughout, giving the Cobbers numerous power play opportunities. The Cobbers added a third goal a minute into the second period on one of those opportunities. The rough play continued into the third period, resulting in another Concordia power play goal at 5:32. With less than a minute remaining in the game the Cobbers sent another into the Lawrence net, bringing the final score to 5-1.
Senior Peter Emery appeared in net for the first time this season, recording 36 saves for the Vikings.
On Sunday the Vikings continued on to St. Cloud, MN, where they were met by fierce competition from No. 15 ranked St. John's University (7-3-4). The Johnnies seized the advantage early, scoring the first goal 2:45 into the first period and racking up two more before the first intermission.
After allowing another SJU goal early in the second period the Vikings started to gain some traction. Junior Renato Engler got the Vikings on the board with an unassisted goal 15 minutes into the period. Freshman Brendan Vetter added a power play goal off assists from freshman Jake Kreutzer and sophomore Blake Roubos a few minutes later. Unfortunately the momentum did not continue in the Vikings' favor. The Johnnies scored two more goals in the third period to secure the 6-2 victory.
Despite the rocky start, the Vikings are looking to fight and win some battles in 2015. After more than a month off home ice they will face conference rivals MSOE Raiders (9-6, 4-4 NCHA) in a home-and-home series this weekend. With matching 4-4 NCHA records, the teams are tied for 5th in the conference standings. The puck will drop at the Appleton Family Ice Center at 7 pm on Friday, Jan, 16, and the Vikings will travel to the Kern Center in Milwaukee to finish the series.