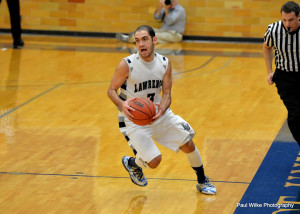 The Lawrence University men's basketball team emerged from a grueling stretch on Tuesday, Jan. 13. The 69-62 home win over Carroll University ended a seven-game losing streak in which the Vikings played six opponents over .500.
It is safe to assume this high-level competition will prepare the Vikings for the remainder of Midwest conference play.
"The results have not always been as we have hoped, especially lately, but there hasn't been one game where we did not fight until the final buzzer," says junior guard Jamie Nikitas. "That resilience is going to pay off for us eventually, hopefully sooner rather than later."
It is only a matter of time before their hard work is reflected in the win column. Lawrence's next three games include a battle with Cornell (3-11, 2-7 MWC) at home, and two road tests against Ripon College (10-4, 7-2 MWC) and Knox College (4-9, 2-6 MWC).
On paper, Lawrence should win two of those games going away. But the Vikings recognize the grind that is the Midwest Conference. "It is a battle every single night in our conference. In order to win you've gotta bring your hard hat and punch into work for a full 40 minutes," says senior forward Andrew Borresen.
With so many teams vying for a top-four spot in conference, games against lower-ranked opponents like Cornell and Knox become dogfights until the final buzzer. This Lawrence team is aware of the challenge, but will need to finish games as strong as they start.
"Lately, we've been doing a good job in the first half of games, but it comes down to cleaning the glass, playing solid team D, and closing out opponents in the second half," comments Borresen.
Lawrence has been able to hang with the best teams in conference — including Ripon and St. Norbert — but struggled late in both contests. Last Wednesday, physicality proved to be an issue. St. Norbert dominated the glass and held Lawrence to a miniscule 16 rebounds in the game.
The physically imposing Green Knights prevented the Vikings from second chance opportunities, and closed out on the other end. For Lawrence to get rolling in conference, they will need to emulate this toughness and determination.
"In my opinion, right now it is just about heart and wanting it more. Once you decide that a rebound or a loose ball is going to be yours, it is going to be yours," states Nikitas. "Once a couple loose balls or rebounds bounce your way, it becomes contagious and the physicality turns in your favor."
More balls are bound to bounce Lawrence's way this season, as they aim for a top-four position in the Midwest Conference. The Vikings (5-8, 3-5 MWC) host Cornell College on Saturday, Jan. 17 at 5 p.m. A loud and proud LUnie Nation will be welcomed.