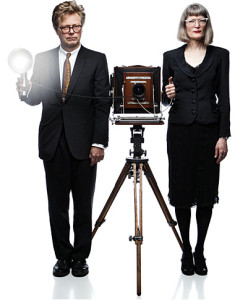 Several Lawrence professors, from the recently hired to the retired, were honored in December of 2014 with recognition at the national level for their work as educators and as artists.
The professors recognized include Art Professors Julie Lindemann and John Shimon, English Professor Melissa Range and former Lawrence University Physics Professor David Cook.
Lindemann and Shimon, who were recognized as Wisconsin's 2014 Artists of the Year by the Milwaukee Journal Sentinel art critic Mary Louise Schumacher, have been teaching in tandem for 27 years, first joining the Lawrence faculty in 2000. They have done a significant amount of work focusing on Wisconsin's culture and history.
"Working with bright, motivated students in our classes constantly challenges our ideas and pushes us forward." said Lindemann and Shimon about the importance of their time at Lawrence to their artistic development. "Faculty research grants and excellent student research assistants have been helpful in making our increasingly ambitious projects possible while giving us access to the latest technologies."
The two studio art professors, who teach Photography and Digital Arts at Lawrence are also collaborators in their own artistic pursuits. They were recognized as 2014 Artists of the Year for their installation "We Go from Where We Know," at the John Michael Kohler Arts Center in Sheboygan, Wisconsin. The exhibit, on display until February 23, features a 1949 Nash Ambassador overflowing with hand cast concrete corncobs.
Range joined the Lawrence faculty in September 2014 as an assistant professor in the English department. The author of two collections of poetry, "Horse and Rider: Poems," and "Scriptorium," Range was named one of 36 National Endowment for the Arts Fellowship in Creative Writing, a $25,000 award for published writers to pursue their passions and continue their work.
"I am at the start of a new poetry manuscript, my third, a historical collection about the abolitionist movement in the United States." said Range on her plans for future writing. She concluded by addressing her future work at Lawrence: "I can certainly imagine this award translating to my work in the classroom. I'd love to teach a course on abolitionist literature, for example, and the more I learn about the contexts for this literature, the better I can present it to LU students … Given that the climate at LU is so enthusiastically collaborative, who knows what other interesting creative intersections might happen? I'm excited to find out."
In 2010, Range received the Dorothy Sargent Rosenberg Prize for her poetry, a fund dedicated to awarding "prizes ranging from $1,000 up to as much as $25,000 … for the finest lyric poems celebrating the human spirit," stated on their website.
She was also the recipient of the 2013 Teaching Award for Creative Writing at the University of Missouri, where she earned her Ph.D. in English and Creative Writing.
Cook, who was awarded with the Homer L. Dodge Citation for Distinguished Service by the American Association of Physics Teachers, retired in 2008 after 43 years of teaching at Lawrence. He worked for the AAPT as vice-president in 2008, taking over as president in 2010, and currently acts as chair for the AAPT's meeting committee.
Joining Lawrence in 1965 after receiving his Ph.D. from Harvard earlier that year, Cook responded to the award from AAPT when his selection was announced, saying "I am both honored and humbled to be chosen for this recognition by the professional organization that has contributed substantially to my own growth since the beginning of my teaching career in the late 1960s."