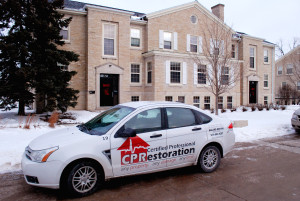 On January 2, sophomore Nathan Ley awoke to a phone call most students don't expect over winter break. Curt Lauderdale from Campus Life personally contacted Ley to inform him that his room had flooded.
Ley was one of many Beta Gamma Pi members informed that day that their house had suffered water damage over the break.
"My speakers, my subwoofer, my receiver, my tv, and an iPod were submerged in water," said Ley.
Other students' rooms were also affected with the water damaging posters, rugs and other personal touches.
"I installed a bar and fake wood floors into my room," added Conor Sexton, a senior. "All of that was destroyed."
Amy Uecke, Associate Dean of Students for Campus Life played a role in cleaning up the mess that met Beta on the first days of Winter Term.
"We have had a flooding occur once before on Union St, so we took what we learned there and applied it here. At a residential college, there has to be a [Plan B] when one of your units goes offline for whatever reason," begins Uecke, "Having some experience with [flooding] affords us the ability to act swiftly."
In order to move forward with repairs, Uecke relocated the Beta members and helped them with their damaged items.
"They provided clean sheets for everyone to use, sent any clothes to professional dry cleaners, provided extra Commons swipes, and told us we could file insurance claims for damaged items," said Sexton.
As an outside contracting company worked to remove the water, repairs turned into renovations for Facility Services.
"When I walked into my room, there were holes in the ceiling and my wall was striped down to the cinder block," said Ley, "Now it is all sealed up. Facility services are working their asses off too. I think they handled it really well."
"You can only do so much when things are wet and need to dry, that's sort of waiting time, but now it is time to get things plastered, painted and repaired," added Uecke, "I really appreciate our facility staff, who gave up their weekend to expedite this process."
Originally, Campus Life anticipated a shorter clean up time.
"They probably shouldn't have given us a time estimate right away," said Sexton, "They originally thought we could move in Wednesday, January 7."
Throughout the process, Uecke has been in contact with the fraternity every day.
"They've been extremely accommodating and I've been extremely impressed with the level of communication," said junior, Zach Ben-Amots, "I think everyone agrees that we are really appreciative of the effort that has been put in by Amy, who has been working really hard to make sure we are comfortable."
Uecke, similarly, holds Beta members in high regard.
"I can't say enough how they all were very gracious and good-natured. It speaks largely to their character how they behaved during this time," concluded Uecke.
According to Campus Life, Beta members were expected to be settled in on Tuesday, January 13.