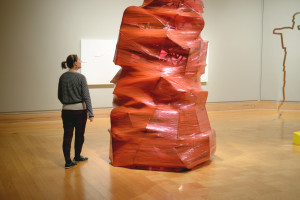 By Lizzy Weekes
On Friday, Jan. 16, five new exhibitions opened at the Wriston Art Center. "Wisconsin Wolf Stories," featured in the Leech Gallery, is a collection of projects created by students in Professor Jodi Sedlock's Environmental Studies Symposium titled Art and Biodiversity Conservation. In the Hoffmaster Gallery is Sarah Gross's "Continental Drift," and in the Kohler Gallery is visiting artist Jason Yi's exhibit, "Terraform." There is also a coin exhibit in the Quirk Print Study Room called "Heads Up!: Visualizing the Past Through Ancient Coins," and in the atrium of the Wriston Art Center is the installation "Untitled Zip Tie Sky," which was made corroboratively by Yi LU art students.
The night began at 6 p.m. with a lecture from Yi. Yi is a professor at Milwaukee Institute of Art and Design, and this is his second stint as a visiting artist here at Lawrence.
Yi grew up in a traditional Korean home with strict Confucius guidelines. His family history is evident in his early photographic and video works. In fact, his father was a painter; Yi said he "absorbed a lot of things" from his father.
Yi has worked all over the world, and has pieces in the Madison Museum of Contemporary Art and photography in China and Japan.
His exhibit at Wriston, collectively named "Terraform," consists of six unnamed pieces: a stack of 40-45 old Lawrence University chairs held together with zip ties and red plastic wrap overlaying; traffic cones on wedges; three white pegboard panels eluding to a cloud-like realm; outlines made of gold and silver Mylar tape which depict the Athena statues that flank the Wriston Art Center; a mixture of angled wood covered with duct tape; and a tilted ladder wrapped in red plastic. Many of his pieces pay tribute to the space in which he worked, the Wriston Art Center.
Also on display is Professor Sarah Gross's ceramic installation piece, entitled "Continental Drift." The piece pays homage to handcrafted art, with several hundred hexagonal tiles, about six inches in diameter and four inches deep, covering the floor, standing precariously atop wooden pegs. As the name suggests, the tiles seem to be separating, as if an onlooker is witnessing the first break of the landmass Pangea. Gross was inspired by Islamic architecture and the overall history of ceramics. Paths made in the negative space between tiles lead to dead ends where one is forced to admire the vast mass as one, contemplating what was then and what is now.
In the last gallery is a collection of projects made by students in Professor Jodi Sedlock's environmental studies symposium. Highlights include a spinning lamp that conveys how the repopulation of wolves has restored ecosystems; a Claymation short depicting wolf hunters and an extensive journal full of notes and drawings.
The coin exhibit displays the work of students in a D-term class where they studied ancient Byzantine coins. The display offers viewers a look at coinage in both a historical and aesthetic manner.
The installation made collaboratively by Yi and LU art students depicts the sky in a gradient of zip ties. More detail on the process and Yi's thoughts can be found in the last week's issue of The Lawrentian.